Front List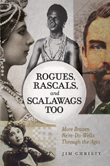 Never before have as many outrageous and out-sized characters appeared in one place at the same time. Words like rogues, rascals, rapscallions, reprobates and rodomontades don't completely describe these individuals; they are more than each or any combination thereof. They are scalawags.
Read More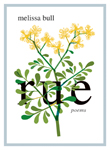 In English, to rue is to regret; in French, la rue is the street – Rue's poems provide the venue for moments of both recollection and motion. Punctuated with neologisms and the bilingual dialogue of Montreal, the collection explores the author's upbringing in the working-class neighbourhood of St. Henri with her artist mother, follows her travels, friendships, and loves across North America, Europe, and Russia, and recounts her journalist father's struggles with terminal brain cancer.
Read More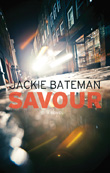 Savour is the follow-up to Bateman's award-winning debut novel, Nondescript Rambunctious, and the second book in a trilogy about a dark, suspected serial killer named Oliver. Savour retains the dark threads of sociopathic depravity that ran through the debut novel, but is once again tempered with a tender ray of humanity. Lizzy is streetwise, yet fragile, and her desperate journey is both uplifting and heartbreaking.
Read More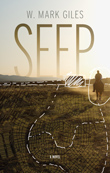 Seep limns the tension between land development and landscape, trauma and nostalgia, dysfunction and intimacy in a narrative of twenty-first century Canada.
Read More


Sensational Vancouver is a fully illustrated popular history book about Vancouver's famous and infamous, the ordinary and the extraordinary, filtered through the houses in which they lived.
Sensational Vancouver covers legendary women including Elsie MacGill, Phyllis Munday, Nellie Yip Quong and Joy Kogawa; high-end brothels, unsolved murders, and the homes and buildings of artists, architects and entertainers including Frederick Varley, Arthur Erickson, Bryan Adams, and Michael Bublé.
Includes a Walking Tour map of historic Strathcona and Chinatown.
Read More