Art/Photography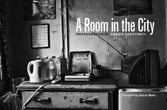 A Room in the City presents Gasztonyi's five-year project of photographing the residents of the Cobalt, Balmoral, Regent, and Sunrise Hotels in Vancouver's Downtown Eastside, the poorest postal code in the country. They are represented in private moments, with respect and dignity—in their rooms and on the streets—as they wish to be seen. Gasztonyi's style continues in the great documentation tradition of Anders Petersen and Josef Koudelka, the photographer of the Roma.
Read More


Ceramic Works by Tam Irving
Tam Irving, ceramic artist, has lived in British Columbia for the past 50 years and during this time he has been at the heart of the changing social, political and cultural relationships that have informed the development of studio ceramics in this province.
Read More


From: Drawn! The Illustration and Cartooning Blog
"Few artists are as capable as Rod Filbrandt when it comes to sifting out the most obvious nonsensical idiocy in today's world, and slinging it back at us like the slap in the neck we all deserve.
Rod doesn't mince words on his oft-updated blog Chowderhead Bazoo, whether he's taking a swipe at the various archetypes that seem to overcrowd the sidewalks of our cities in his "The Bane of My Existence" series, lambasting Elvis Costello for selling the last of his soul in a recent Lexus ad, or waxing nostalgic at the demise of a local bar, Rod always hits the nail on the head."
Read More