Front List
Sharp with insights that cut to the core of the matter, the poems in Escape from Wreck City – like the people who inhabit them – are ecstatically alive.
Read More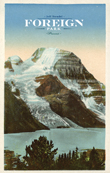 Foreign Park situates itself in an epoch where prior assurances of the natural world's solidity begin to slip. Poisons enter the Fraser River Basin.
Read More


Further Confessions of a Small Press Racketeer takes up where Stuart Ross's Confessions of a Small Press Racketeer left off in 2005. Memoir, tirade, unsolicited advice — this new volume is drawn largely from Stuart's notorious "Hunkamooga" column that ran in subTerrain, but also includes pieces from his blog as well as previously unpublished work.
Read More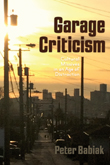 In Garage Criticism Peter Babiak gently eviscerates and deflates some of the cultural hot topics of our time. He deconstructs our fascination with Internet culture and its libertarian ideology, devolves the hallucinations of economics and marketing to rhetorical mystifications, and asserts and reasserts the supremacy of linguistic thinking in everyday cultural affairs no less than politics and philosophy.
Read More

By Nelly Arcan (translated by David Homel & Jacob Homel)
In this daring act of self-examination and confession, the late novelist Nelly Arcan explores the tortured end of a love affair. All the wrong signals were there from the start, but still, she could not help falling.
Read More