Books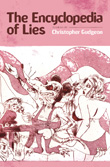 In these sixteen stories, Christopher Gudgeon – bestselling author of the critically acclaimed Song of Kosovo – takes a heartbreaking and hilarious look into the lives, loves, sexual obsessions and delusions that inform a grand cast of off-kilter characters.


Here is a gay couple who persevere with their marriage plans as the world – literally – crumbles around them, a woman who discovers the mysterious collection of letters that reveals a terrifying truth about her deceased finance, a dutiful son, locked in an life-or-death marathon race with his famous father, and a baby who becomes infested with fruit flies – sending his adoptive parents into a spiral of recrimination and self-doubt.


At once bitterly funny, provocative and poignant, this remarkable collection – follow up to Greeting from the Vodka Sea, Gudgeon's short story debut – The Encyclopedia of Lies builds on his growing literary reputation, offering up the work of a great storyteller at his very best.

PRAISE FOR CHRIS GUDGEON'S PREVIOUS FICTION:


"Gudgeon is . . . a major new talent in Canadian literature."
— Quill and Quire on Greetings from the Vodka Sea

"a remarkable first novel."
— Victoria Times-Colonist on Song of Kosovo
ISBN 978-1-77214-075-0
5 x 8.5 | 212 pp
$20 CAN / $20 US
Rights available: World
ANVIL PRESS BOOKSTORE
Payments processed by PayPal
Canadian Customers
CDN $20


Rest of the World Customers
US $20


This debut collection features poems about nature, poems about love and relationships, poems about living in the city, and poems about traveling the globe. And all at once they capture the thrill of being fully engaged with the world, keenly observing each moment and event that constitutes being human. Whether it's following the "wounded insomniac" through the "desert lushness of sage and creosote" or hot lovers who "flicker bareback beneath the full moon, panting" or drifting, moribund couples on empty streets moving like "dead meat or heavy traffic" under leaves of an "electric yellow" Creary's language is potent, lush, playful, witty, and demanding of attention.


Sharp with insights that cut to the core of the matter, the poems in Escape from Wreck City – like the people who inhabit them – are ecstatically alive.


PRAISE FOR
ESCAPE FROM WRECK CITY


"John Creary doesn't seem to have a slower gear or a dimmer switch. If he's driving it is full speed and right off the end of the cliff if necessary, with the lights on high beam, of course. … But man oh man oh man this Creary cat is one silver-tongued flim-flam trapeze high-flying crazy Wallenda carnie-barker. There's as much entertainment in almost any poem you choose from Escape from Wreck City to keep the lights burning in a modestly sized town."
— Today's Book of Poetry, blog


"John Creary's poems growl, roar, whisper, chortle, purr and shout. He's a writer stoned on words, constantly surprised by what they can and can't do. Language's energy—clean, dirty, pulsing, spiking, minimalist—vibrates through Escape from Wreck City."
— TOM WAYMAN, author of The Order in Which We Do Things
ISBN 978-1-77214-096-5
5.5 x 8.25 | 96 pp.
$18 CAN / $18 US
Rights available: World
ANVIL PRESS BOOKSTORE
Payments processed by PayPal
Canadian Customers
CDN $18


Rest of the World Customers
US $18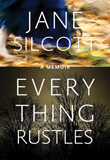 FINALIST, HUBERT EVANS NON-FICTION PRIZE (BC BOOK PRIZES)


In this debut collection of personal essays, Silcott looks at the tangle of midlife, the long look back, the shorter look forward, and the moments right now that shimmer and rustle around her. Here is love, grief, uncertainty, longing, joy, desire, fury, and fear. Also wandering bears, marauding llamas, light and laundry rooms.


"Jane Silcott writes crisp and compelling narratives; as their import emerges, small epiphanies wink into consciousness, and we are taken up into everyday life. Reading this collection of her work we glimpse layers of the real that seem so often to conceal the world from us. A wonderful book, a book of wonders."
— Stephen Osborne, Publisher, Geist Magazine


"Reading 'Fish,' I was so deeply brought back to my own subdued memories of losing my mother, that I felt in Jane the presence of a found sister. For me, these essays are about what we once were, about ageing itself, about the solidity of those we love and the porousness of who we are. They are searching, self-deprecating, celebratory and sorrowful, and they rustle with wondrous detail and brave observation."
— Madeleine Thien, author of Dogs at the Perimeter


"Jane Silcott is the kind of writer we discover and then immediately wonder where she has been all our lives. Her work is fearless, honest, and every sentence is edged like a gem. Her insight and intelligence locate human grace in the midst of even the most difficult of subjects. She is a writer to put your faith in."
— Curtis Gillespie, Editor, Eighteen Bridges


"Read these wonderful essays slowly; savour their lively intelligence, their thoughtfulness, their cheek. Silcott takes the personal essay right back to its most productive origins and purpose: to explore (essayer) our world's mysteries with amazement and humility."
— Andreas Schroeder, author of Renovating Heaven
ISBN 978-1-927380-41-3
5.5 x 8 | 192 pp
$18 CAN / $18 US
Rights available: World
ANVIL PRESS BOOKSTORE
Payments processed by PayPal
Canadian Customers
CDN $18


Rest of the World Customers
US $18


We've all had good, bad, and sometimes ugly experiences on public transit. Exact Fare Only is an anthology of real life stories about heading out, heading back, and everything that happened in between, whether the trip was across the country or just across town.
ISBN 1895636299
5 x 8 | 176 pp
15.95 CAN / 15.95 US
Rights available: World
ANVIL PRESS BOOKSTORE
Payments processed by PayPal
Canadian Customers
CDN 15.95


Rest of the World Customers
US 15.95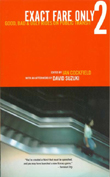 Back with more, Exact Fare Only 2 is the follow-up collection of the weird, the wild and the wonderful of commuter literature. Whether by land, sea or air, public transit around the world says more about the human condition than many want to admit. These real-life tales, reflections, poems, and rants are required reading for commuters everywhere. Join Teresa McWhirter as she gets propositioned on a cross-country Greyhound, Matthew Firth accidentally witnessing a midnight exchange of essential services, Scott Gunning encountering compassion on a third-class bus in southern India, Catherine McNeil who misses her ride and discovers the cost of a stranger's kindness, and follow ten years of Patricia Rutale's life as a TTC rider negotiating urban legends, prejudice, come-ons and bright-eyed awe.
ISBN 1895636558
5 x 8 | 180 pp
18.00 CAN / 13.00 US
Rights available: World
ANVIL PRESS BOOKSTORE
Payments processed by PayPal
Canadian Customers
CDN 18.00


Rest of the World Customers
US 13.00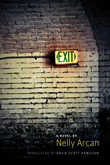 By Nelly Arcan (translated by David Scott Hamilton)
Governor General's Award Finalist!
The Globe 100: The very best of 2011
Somewhere in Montreal, in the not too distant future, an obscure company offers custom-designed suicides for its clients with one condition: their desire to die must be pure and absolute. Antoinette Beauchamp is a successful candidate but her suicide is not. Now a bedridden paraplegic, hooked up to machines that monitor all her bodily functions, she tells her story, taking the reader into the Kafkaesque world of the company and its bewildering cast of characters.
Exit is at once a profound examination of what it is that drives someone to want to end their life, as well as how that urge can be turned on its head against all odds. Written with her signature brio and acerbic wit, Nelly Arcan's last novel is a hymn to life.
Praise for Exit:
"Top 10 Book of 2011"
—Shelf Unbound
"a compelling crawl through the claustro confines of depression and sweeping suicidal desire … Dark, beautiful, poignant and clever, Arcan's Exit is a powerful read."
—Lisa Foad, The Globe & Mail
"This book plucked the brain from my skull and punted it through the uprights of remembering what writing can be like when a true artist unleashes her talent, passion and fearlessness in a book. No false compromises here. No half-steps. Just a rigorous exercise in ethics and contemporary morals wrapped in humour, helplessness and the absurd. For a book about suicide the writing is tight, energetic, rigorous … This book will be on my best of the year list."
—Sean Cranbury, Books on the Radio
"…a remarkable and stunning must-read addition to this year's crop of English CanLit … It is dark, bleak, shocking and ceaselessly gripping."
—Mike Landry, The Telegraph-Journal
"Arcan liberates us from the accepted norms and conventions with this courageous and profound novel. She does all this while bathing the reader in scatalogical vulgarity, which leaves neither pretense nor pretension to hide behind."
—Jenny Smith, Room
"[The protagonist's] voice is thoroughly belligerent, as she mercilessly explains why she is bent on pursuing hopelessness, ugliness, all that is antithetical to life, and what it means to exist without 'that strength of will to desire, to discover, to love, to believe' … Ultimately, though, Exit is a strangely hopeful novel …"
— Canadian Literature
"A powerful argument for suicide as a human right, Exit is also strangely life-affirming. Ordinarily, these contradictory positions could suffice as the motor of a plot. Arcan's protagonist is the irascible, narcissistic Antoinette Beauchamp, who seeks strength and reason to live from within the depths of her own twisted psychology. Knowing that the young woman who wrote this outrageously beautiful, thoroughly original novel did not is, well, heartbreaking. Cruel, even. So Exit and the late Nelly Arcan's life are a package. In the end, though, I only thought of Nelly Arcan. How could she have had this book inside her, let it out, and still leave us? Great beauty can be found in very dark places."
—The Rover
"A work of originality pushed to the limit. It's crazy. Full of imagination. Even funny at times. A story unlike any other."
—Danielle Laurin, Le Devoir
"Her writing will grab you and pull you into a fabulous world."
—Benoît Aubin, Le Journal de Québec
ISBN 978-1-897535-66-0
5.25 x 8.25 | 192 pp
$20 CAN / $20 US
Rights available: World
ANVIL PRESS BOOKSTORE
Payments processed by PayPal
Canadian Customers
CDN $20


Rest of the World Customers
US $20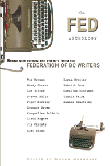 With a thousand members throughout the province, the Federation of BC Writers is one of the most active and vigorous writers' organizations in the country. The Fed Anthology, edited by Susan Musgrave on the occasion of the group's 25th anniversary, is a colourful bazaar of previously unpublished fiction and poetry by nearly 50 of those members. Like the Fed itself, the book includes both authors whose names are instantly familiar to all readers of Can Lit and others who are emerging only now to take their place as the next generation. The country has learned to turn to British Columbia when taking the pulse of Canadian writing. The Fed Anthology is a lively part of the process. The anthology features work by Tom Wayman, Sandy Shreve, Len Dufour, Steven Mills, Peggy Herring, Loranne Brown, Linda Rogers, Jim Christy, Kate Braid, Lorna Crozier, Caroline Woodward, Ursula Vaira, Patrick Lane, Luanne Armstrong and many others.
ISBN 1895636485
5.25 x 8 | 240 pp
18.00 CAN / 13.00 US
Rights available: World
ANVIL PRESS BOOKSTORE
Payments processed by PayPal
Canadian Customers
CDN 18.00


Rest of the World Customers
US 13.00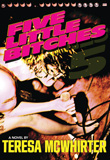 Five Little Bitches chronicles the rise and fall of the all-woman band, Wet Leather. Each of the women is plagued by her own unique demons, but their devotion to music and the punk lifestyle keeps them pushing on. As the band progresses, they tour Canadian, American and European towns and cities—and all the alleys, gutters, back stages, vans, hotel rooms, highways and airways in between.
Part punk rock travelogue, Five Little Bitches is full-throttle grit-lit. The novel is a testimony to a generation of grrrls in revolt.
What the critics have to say about Five Little Bitches:
"Fuelled by cheap beer and adrenalin, Teresa McWhirter's second novel follows a band of hard-luck women who like to shred guitars, vocal chords, men, each other and their own lives."
– National Post
"One glance at this book and you know: It ain't Anne Tyler. … Five Little Bitches is funny, outrageous, and startlingly authentic … and she delivers what any reader wants – a novel that is vibrantly alive, never dull."
– Prairie Fire
"a raw, punk energy courses through its veins"
– Georgia Straight
"Told in the straight-ahead manner of 2007's Dirtbags, McWhirter delivers an in-your-face style to match the grit of her characters…"
– Quill & Quire
"… it captures the essence of a sub-culture. … The design of the text is as bold as its uncensored language. Every page is coloured with the chaos of punk rock shows, volatile relationships, pain, joy and humour – and illustrated with gritty black lines, graffiti art, band posters, set lists and photos. … These are flawed, real women who are unapologetic. But as much as the characters of Five Little Bitches appear hell-bent on being abrasive, this thoroughly modern feminist novel ultimately succeeds because it portrays human vulnerability."
– BC BookWorld
"These bitches rocked me: crass & high, they scream, fight, make music & they're all over the map – kickass crazy story."
—oneline review
What the critics had to say about McWhirter's previous books:
About Some Girls Do
Before approaching this book you have to decide if you are interested in reading about people who are pimples on the ass of society. … Twenty-something alcoholics and druggies do not or cannot read, and people who can afford books do not want to read about them.
—W.P. Kinsella, author of Shoeless Joe
About Dirtbags
"McWhirter is a mistress of momentum. … Dirtbags will take its place in any sensibly constructed future Canadian canon. This is a great book and a funny, moving and entertaining read."
— Globe and Mail
"… when the climax comes at last, it's explosive, and proves McWhirter hasn't missed a trick. She's constructed the novel so well, you don't notice the structure; you just enjoy the writing, and that's as good as it gets."
— Vancouver Review
"Her clear, emotionally detached voice serves the story superbly, refusing to pass judgment even as the character's actions lead them to ruin. This search for beauty amid chaos and anarchy resonates long after the last page is turned."
— Fast Forward
"These are not the young, hip, irony-driven quipsters from Douglas Coupland novels, biding their time, hoping for elevation into a higher level of consumerism; McWhirter's generation of urban drifters are jumping over the edge of despair into pits of self-destruction. Romance is a luxury they can't afford."
— ABC BookWorld
ISBN 978-1-897535-90-5
5.5 x 8 | 296 pp
$20 CAN / $20 US
Rights available: World
ANVIL PRESS BOOKSTORE
Payments processed by PayPal
Canadian Customers
CDN $20


Rest of the World Customers
US $20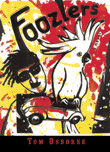 Foozlers is a 24-hour "Odyssey" that runs a juggernaut through the high- and lowlands of Vancouver. Jerry Lowe is the reluctant driver of a getaway car for two sketchy junkies on the make. A pair of cops spend a shift wobbling on the cusp of total breakdown. The groom-to-be in an Indian arranged marriage seeks an escape of the carnal variety. Soon, they will all intersect paths with a gas station attendant and a very "special" car wash operator. And somebody's got to do something about that noisy, bad-tempered cockatoo.
Foozlers chronicles that thin line between sane and insane behaviour, and the mayhem and unpredictability fuelled by the "Butterfly Effect"-strangers' paths crossing for only an instant but having explosive effects. By story's end, lives, or at least attitudes, will change. Sort of.
Praise for Foolzers
"Like Blaise Cendrars' To the End of the World, John Kennedy Toole's A Confederacy of Dunces and the whacked-out works of J.P. Donleavy, Terry Southern and William Burroughs, Foozlers is a madcap tour de force."
—The Vancouver Sun
"irreverent, break-neck pace, and rollercoaster prose that's a lot of fun to ride"
—Quill & Quire
"It's a caper story with every element slightly off-kilter. And that's the charm of [Foozlers] . . . . Read it and laugh."
— RainReview.com
ISBN 1895636647
5.5 x 7.5 | 176 pp
18.00 CAN / 13.00 US
Rights available: World
ANVIL PRESS BOOKSTORE
Payments processed by PayPal
Canadian Customers
CDN 18.00


Rest of the World Customers
US 13.00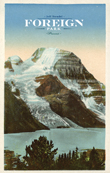 Foreign Park situates itself in an epoch where prior assurances of the natural world's solidity begin to slip. Poisons enter the Fraser River Basin. An oil slick approaches by night engulfing a fishing vessel, leaving its captain in open waters. Page after page, Foreign Park makes strange with its inhabitants. As it unfolds, it plots itself along the Fraser River overlaying myth and historicity with present day. These calm poems detail the effects of destruction on land and simultaneously explore family and community in Vancouver's coastal cityscape. Foreign Park guides through subtle shifts in temperature and elevation in order to engage with questions on death, ageing, family and fidelity.


Praise for Foreign Park:
"Jeff Steudel's Foreign Park measures an immediate world through the palpable juxtapositions of the local, what's close to hand, organic flashes of the day's objects that can be touched. The "foreignicity" of his poetic park reveals the paradox of where and how we live, that in-between margin in the world where we "don't need to know everything" and "Every five minutes together [is] a new world." These poems shimmer in their aliveness."
— Fred Wah, former Canadian Parliamentary Poet Laureate and recipient of the Governor General's Award for Poetry
ISBN 978-1-77214-015-6
5.25 x 7.75 | 90 pp
$18 CAN / $18 US
Rights available: World
ANVIL PRESS BOOKSTORE
Payments processed by PayPal
Canadian Customers
CDN $18


Rest of the World Customers
US $18

Next
Previous