Books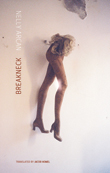 By Nelly Arcan (translated by Jacob Homel)

2015 Globe and Mail's Top 100 Books of the Year

2015 National Post's Top 99 Books of the Year


Rose Dubois and Julie O'Brien find themselves on the roof of a Montreal apartment building on a scorching summer's day, and from that moment on their fates are intertwined. Worldwide climate change and dramatic shifts in weather patterns foreshadow their predestined suffering.


As is soon revealed, the two women share a submissive love for the same man, Charles. Their mutual desire creates an arms race of artificial beauty and debasement; they have a common obsession for plastic surgery and strive to be avatars of the perfect female.


As they compete for the love and attention of Charles, both women come to realize that to accept being nothing more than an object, to kneel and grovel before your persecutor, you ultimately become his executioner. In the end, Charles' own obsessions and desires—which he loathes—are ultimately his undoing and downfall.


PRAISE FOR BREAKNECK
"… With the publication of BREAKNECK this month (A Ciel ouvert, 2007), the small Canadian publisher Anvil Press concludes its project of publishing all of Arcan's novels in translation. […] Fantastically intelligent, always trying to second-guess how a woman should be, Arcan finds death the only answer to her predicament. In style and emotion—and honesty—her work is a much closer cousin to Edouard Leve's Suicide than to the archness of Belle de Jour or Catherine Millet. The best way to absorb Arcan's work is to read it in chronological order, and then to lament that the titles of her work—Whore, Hysteric, Breakneck, Exit—so succinctly and poignantly summarize the short life and hard-won philosophy of this exceptional writer."
—The Times Literary Supplement


"Sexually explicit, BREAKNECK is a masterfully written, but disturbing, cautionary tale."
—Foreword Reviews


"BREAKNECK is an unflinching, often outlandish look at female extremity in the matters of the heart, exposing how female rivals often share the same flaws. This is sisterhood, in Arcan's formation, 'at the bottom of the barrel.'"
—Tamara Faith Berger, The National Post


"BREAKNECK is above all else an anxious novel, swimming in an excess of intoxicants and physical extremes, bouncing back and forth between personal improvement and destruction. It is 'troubling and filled with pleasure'—a phrase one of the women uses to describe her developing romance with Charles. Arcan's frenetic, even disturbing prose—here in translation by Jacob Homel—mimics the book's title, strong-arming its reader into an intense philosophical examination of vanity and excess. What risks coming across as a shallow narrative benefits from the incredibly thoughtful introspection that has come to define Arcan's unique world. The late Quebec writer readily understood the all-consuming depths of what we often wrongly deem as superficial."
—Stacey May Fowles, Quill & Quire


"BREAKNECK is Arcan's only novel written in the third person. It chronicles two women as they compete for the attention of one man by whatever means necessary. Each woman reinvents herself through iterative plastic surgery and sexual debasement. If it were possible to collapse all of Arcan's work into a set of thematic interests, they would be as follows: love, sex, female subjugation, psychotherapy, beauty, suicide. But it is not possible."
—Emily Keeler, The National Post


FROM FRANCE:
"A novel that's a slap in the face, that will disturb and, hopefully, be a wake up call for addicts of standardized beauty."
—Atmosphères


"Breakneck explores, in brilliant and breathless fashion, the failings of the omnipresence of the perfect feminine body."
—Sandrine Mariette, Elle


FROM QUÉBEC:
"Cruel, acerbic and disillusioned, the author's pen is as generous as the statement is cruel."
—Juliette Ruer, Styles de vie


"Nelly speaks here about our world with great intelligence. She is perhaps one of our most ferociously observant writers…"
—Michel Vézina, Ici
ISBN 978-1-77214-011-8
5.25 x 8.25 | 224 pp
$20 CAN / $20 US
Rights available: World
ANVIL PRESS BOOKSTORE
Payments processed by PayPal
Canadian Customers
CDN $20


Rest of the World Customers
US $20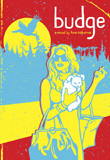 From the author of Dead Man in the Orchestra Pit and Foozlers comes another tale of madcap human folly.
Louella Debra Poule is doing an eighteen-month stint on a weapons charge at a minimum-security institution up the Fraser Valley. Her drug-dealing, sometime-boyfriend Jimmy Flood and his sidekick, Blacky Harbottle, should have taken the rap, but their list of "priors" would have put them in the slammer for quite a little stay. Louella "did the right thing" and took the fall.
Six months into Louella's sentence, her mother, whom she hasn't seen in years, dies suddenly. After Louella's early release, she discovers she has inherited a fair bit of money and a nice condo in a treed and quiet suburb of Vancouver. It is here that Louella sits in relative safety and obscurity, here that she decides to take some time away from the influence of her prior associates, reassess her life, tend her mother's garden, and work through the agonizing steps from addiction back to the world of "normal" living.
But, needless to say, her past comes a-callin' …
Praise for Budge:
"Budge is one of the more quirky, unconventional, picaresque novels to come along in a while. … To fully appreciate Budge, we must relinquish our trust to Osborne, a somewhat loopy shaman. … Tom Osborne warrants a great deal of praise for freshness of content, viewpoint, and plot. He knows how to use language with skill and verve. …" ForeWord (US)
By the same author:
Dead Man in the Orchestra Pit and Foozlers
ISBN 978-1-897535-99-8
5.5 x 8 | 244 pp
$20 CAN / $20 US
Rights available: World
ANVIL PRESS BOOKSTORE
Payments processed by PayPal
Canadian Customers
CDN $20


Rest of the World Customers
US $20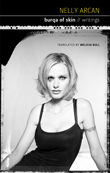 By Nelly Arcan (translated by Melissa Bull)
Burqa of Skin is a dense collection of writings from Nelly Arcan, channelling harrowing disenchantment and indignation. From her very first novel, Putain (Seuil, 2001), Arcan shook the literary landscape with her flamboyant lyricism and her preoccupations with such recurring themes as our culture's vertiginous obsession with youth, and its reverse: the draw of death. Now beyond the ripples of scandal Arcan's work has caused, here are the last echoes of her work, and it is as stunning as it is brief.


Burqa of Skin, with its gruesome title, catapults her work into contemporary debates on culture and gender. The book collects three previously unpublished works: "The Dress," "The Child in the Mirror" and "Shame." The first two are written in the first person, in that turbulent, suffocating language that was Arcan's singular brand, that of a writer on the edge. In the third text, she analyses with inexhaustible ferocity her humiliating experience on the set of a TV talk show. Two lesser-known non-fiction pieces are also included in this collection: a reflection on speed dating and a column published in 2004 titled "Suicide Can Be Harmful to Your Health."
ISBN 978-1-77214-001-9
5.25 x 8.25 | 128 pp
$18 CAN / $18 US
Rights available: World
ANVIL PRESS BOOKSTORE
Payments processed by PayPal
Canadian Customers
CDN $18


Rest of the World Customers
US $18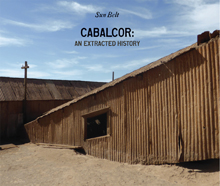 Sun Belt's collaborative work of fiction is a genre-defying chronicle of a tar sands company town. Drawing from an array of invented sources such as journals, film transcripts, environmental studies and police reports, Cabalcor charts the rise and fall of a mythical boomtown that, within the span of a century, becomes a desert wasteland.


The multi-layered narrative is woven together by an extraordinary blend of texts, both black and white and colour images, and a full downloadable album of Sun Belt's quietly surreal, dusty music.
ISBN 978-77214-003-3
8 x 7 | 168 pp
$24 CAN / $24 US
Rights available: World
ANVIL PRESS BOOKSTORE
Payments processed by PayPal
Canadian Customers
CDN $24


Rest of the World Customers
US $24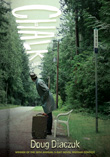 Chalk is a tender story about love and loss, following a broken-hearted thirty-something cubicle worker, free-falling from every ledge of his life. Post-break-up and blue, he feels like nothing matters, that he has become invisible, like a chalk outline on the floor, empty inside.


Living in a one-bedroom apartment with beige-coloured walls and a TV with a snowy screen, his dead-end days are capped off with solo evenings of drinking and bad TV. His phone rings, but he rarely answers. Every few days he picks up his messages after he tires of watching the red blinking light on the answering machine. It is one of these messages that eventually calls him home to mourn a family tragedy.


Certain that he will die if he gets on a flight, he somehow – with the aid of drugs and a couple of panic attacks – survives the trip home.


He decides to return by bus, rental car, or both. During his travels he meets L, a mysterious third gender runaway and they set each other off on an unintentional quest for meaning. He runs into trouble with the cops, angry gangs of roving youth, scammers and eventually falls even further down, until finally coming to realize that all roads lead back to where he started—in the flowers drawn by two little girls in coloured chalk on the sidewalk.


Chalk is a story about You.
ISBN 978-1-77214-078-1
5.25 x 7.5 | 160 pp
$18 CAN / $18 US
Rights available: World
ANVIL PRESS BOOKSTORE
Payments processed by PayPal
Canadian Customers
CDN $18


Rest of the World Customers
US $18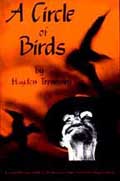 Winner of the 15th annual 3-Day Novel-Writing Contest
A Circle of Birds is an impressionistic, finely wrought tale of lost memory, tangled history, despair and discovery. It is a journey through much Canadian and world history; a mind-melting descent into mental illness, a sordid yarn of death and twisted love.
ISBN 1895636035
5.5 x 8.5 | 100 pp
9.95 CAN / 9.95 US
Rights available: World
ANVIL PRESS BOOKSTORE
Payments processed by PayPal
Canadian Customers
CDN 9.95


Rest of the World Customers
US 9.95

Confessions of a Small Press Racketeer is equal parts literary memoir, advice for the emerging writer, and reckless tirade. Ross has been active in the Canadian literary underground for a quarter of a century: he's sold thousands of his books in the streets, published and edited magazines, trained insurgents in his Poetry Boot Camps, and started Canada's first Small Press Book Fair. Where the media focusses only on the glamorous literary lives of its few superstars, Ross gives us a glimpse into How Writers Really Live. In Confessions, he declares himself the King of Poetry, explores his floundering Jewish identity, wanders into the best bookstore in Canada, offers a crash course in avoiding writing, pisses off his publishers, runs a renegade Canada booth at the International Book Fair in Managua, and begs egomaniacal young writers to stop bugging the hell out of him. Many of these essays are culled from Ross's bimonthly "Hunkamooga" column in Word: Toronto's Literary Calendar. Others are written specifically for this collection.
ISBN 1895636655
6 x 8 | 80 pp
16.00 CAN / 14.00 US
Rights available: World
ANVIL PRESS BOOKSTORE
Payments processed by PayPal
Canadian Customers
CDN 16.00


Rest of the World Customers
US 14.00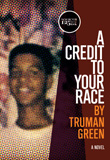 Set in Surrey, BC circa 1960, A Credit to Your Race is a story about innocent love awakening between a fifteen-year-old black porter's son and the white girl next door. The novel is a disturbing and convincing portrayal of how the full weight of racism and bigotry came to bear on a youthful, interracial couple.
A Credit to Your Race was published in 1973 in a press run of only a few hundred copies. We are pleased to be making this "lost" BC novel available to a new audience of readers as part of the City of Vancouver's Legacy Book Project.
"If isolation is a key theme of black B.C. writing, Green's protagonist Billy Robinson is the most fully-drawn expression."
– author and social historian Wayde Compton
ISBN 978-1-897535-86-8
5.5 x 8 | 160 pp
$18 CAN / $18 US
Rights available: World.
ANVIL PRESS BOOKSTORE
Payments processed by PayPal
Canadian Customers
CDN $18


Rest of the World Customers
US $18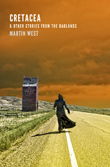 The stories in Cretacea and Other Stories from the Badlands mostly take place in hot weather, where dust and sweat envelop everyone and everything. A teenage boy spends a summer with his hard-livin', hard-drinkin', messed up uncle and has to fight for a position in his new, temporary "family." A recent widower gets swept up in the world of the local swingers' scene. A band of misfits struggles to survive at a makeshift commune. An eccentric woman with OCD has a strange fetish that involves the prescription delivery boy. For no particular reason, a fossil-collecting, poetry-reading loner decides to turn sniper and shoot up the town – selecting only non-human targets. Asphyxia games with a sexy transvestite go seriously awry. A distraught man enlists his friendly neighbour in a nighttime river search for his lost daughter. Bored and desperate couples in a trailer park find unique ways to work out their kinks. The plans of a primed-for-action threesome are suddenly derailed when a badly beaten dog is spotted tied up to a parking meter. Fossils and prehistoric sleeping creatures, cattle, rivers, dusty highway gas stations, truck stop diners, guys in small towns with dead-end jobs and unfulfilled dreams, the smell of sage and the sound of cicadas in the air, and redemption is nowhere to be found …


This is not the Alberta world of oil and hockey and wheat, but of people at night, living alternate lives, wearing clothes that usually remain hidden in the depths of closets. When they emerge from these closets wearing these clothes, these shopkeepers, lawyers, and students do things to themselves and each other that it would take Freud to explicate. Everywhere in the valley lies the fear of loneliness, the obsession with desire, and the human fixation with the unknown.


Praise for Cretacea & Other Stories from the Badlands:


"[I]n Martin West's impressive debut short story collection … readers will encounter echoes of Flannery O'Connor and Barry Hannah."
— Foreword Magazine


"the 11 tales in Martin West's debut collection … often surprise with strange, startling images."
— Alberta Views
ISBN 978-1-77214-049-1
5.5 x 8.5 | 174 pp
$20 CAN / $20 US
Rights available: World
ANVIL PRESS BOOKSTORE
Payments processed by PayPal
Canadian Customers
CDN $20


Rest of the World Customers
US $20


Rooted in the back alleys, squats and psychiatric wards of contemporary Vancouver and Montreal, these unyielding poems enter the intersecting tensions and intensities in characters such as Mike, a panhandler on Vancouver's Commercial Drive, Matthew, a runaway punk, and Dara, a single mother. Cusp's central sequence, however, concerns the tragic life and death of Frank Bonneville, a schizophrenic and drug-addicted artist who became Ms. Owen's muse between their 2001 meeting and his 2003 suicide. Complemented by Karen Moe's haunting photographs of Vancouver's neglected spaces and rejected objects, Cusp/detritus is a testimony to an obsession with the lost.
ISBN 1895636744
7 x 7 | 128 pp
16.00 CAN / 14.00 US
Rights available: World
ANVIL PRESS BOOKSTORE
Payments processed by PayPal
Canadian Customers
CDN 16.00


Rest of the World Customers
US 14.00

Next
Previous