Books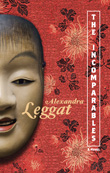 The Incomparables is the debut novel from the Trillium nominated author of Animal. Lydia Templar is obsessed with fabric, the texture and weight of cloth. Through fabrics, curtains, costumes, she expresses herself in a way she feels incapable of doing in words. For the past ten years she's apprenticed in the wardrobe department of a small Shakespearean theatre company and has finally been given the opportunity to showcase her designs. When she discovers her husband is having an affair with his leading lady, she seeks revenge the only way she knows how: she weaves her panic, pain, and paranoia into the costumes. It costs her the job. She swears she'll never sew again, packs her things, and returns to her mother and the sprawling country estate she left years ago. Lydia discovers that her mother has turned part of the large family home into a bed and breakfast.


When a group of counsellors from the city book the family's B&B for the summer to prepare for a special wedding ceremony, Lydia's plans to never thread a needle again are challenged. Through the one thing she cannot live without, the counsellors lure Lydia into a role she did not see coming — her self.


The Incomparables is a novel about ambition, betrayal, "failure," love, family dynamics, how we deal with societal, family, and personal expectations, and how we come to accept who we are.


REVIEWERS ON Animal

"I'm tempted to say it's a slim, distilled masterpiece."
— MICHAEL BRYSON, Underground Book Club


"these quickly unfolding stories are elliptically drawn, tense with action and dark humour. Leggat is a shape-shifting writer"
— THE GLOBE AND MAIL


"this immensely rewarding collection is worth picking up"
— EYE WEEKLY


"Most short story collections are up and down. Unlike most, however, Animal is more than the sum of its parts." – HERIZONS
ISBN 978-1-927380-62-8
5.25 x 8.25 | 320 pp
$20 CAN / $20 US
Rights available: World
ANVIL PRESS BOOKSTORE
Payments processed by PayPal
ISOLATION DISCOUNT: 30% OFF ALL BOOKS: For a limited time, all books are 30 per cent off



REST OF THE WORLD READERS
$20