Books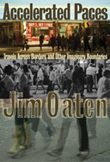 Dodging down back-alleys in bomb-torn Beirut. Wheeling past God and traffic in Mombassa, Kenya. Slipping around the edges of Alzheimer's disease, the Gulf War, and the eternity of CNN.
Set somewhere between here and the heat-death of the universe, Jim Oaten's debut collection serves up random samples of literal and literary truth scooped up at top speed. Whether peeking out from the backseat of Mom and Dad's car or surveying the grimy wings of mental wards, Accelerated Paces hurdles that uneasy terrain between creative fact and honest fiction. These short stories and pieces ignore borders as they jaunt thorough external trips and internal voyages.
This is both creative non-fiction and creative fiction, which follows the idea of crossing boundaries and blurring borders. Think part of this collection will be an explicit demonstration of how the two genres interplay, of how a non-fiction event can inspire a fictional piece, and, interestingly enough, the reverse as well.
Stamp your passport, and step on the edge. Buy a ticket, and take the ride.
ISBN 1895636930
5.5 x 8 | 176 pp
$18 CAN / $18 US
Rights available: World
ANVIL PRESS BOOKSTORE
Payments processed by PayPal
Canadian Customers
CDN $18


Rest of the World Customers
US $18