Books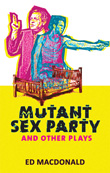 In Mutant Sex Party & Other Plays, Ed Macdonald eviscerates the high and the mighty, the hypocritical, and those who abuse power in late-Capitalism America. He expertly peels back the tattered facade of corporate respectability and reveals the hypocrisy that is brokered and sold under the guise of "doing business" in America. These plays dig deep at the rot that lies at the base of a free-rein, unregulated, capitalist market system.
As well as the title piece, the collection includes The Escape Artist, Erratica, Gemini, Smoke & Blood, Hot Meat and Titus Lucretius Carus.
Praise for Mutant Sex Party:
"There's an interesting and very complicated relationship to explore here; I was immediately curious about the power dynamic . . . and also about the element of hypocrisy." —nytheatre.com
ISBN 978-1-897535-93-6
5.25 x 8.25 | 120 pp
$16 CAN / $16 US
Rights available: World
ANVIL PRESS BOOKSTORE
Payments processed by PayPal
Happy Holidays: Buy any 2 books, save 20%; any 3 books, save 30%; or any 4 or more books and save 40% off!



REST OF THE WORLD READERS
$16