Books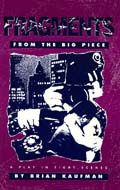 Fragments from the Big Piece is a non-linear, stylized play inspired by "eastern bloc" film noir. While exploring the dark underbelly of the drug trade, the play simultaneously tells the story of a man and a woman's crumbling relationship.
ISBN 1895636027
5.5 x 8.125 | 44
6.95 CAN / 6.95 US
Rights available: World
ANVIL PRESS BOOKSTORE
Payments processed by PayPal
Happy Holidays: Buy any 2 books, save 20%; any 3 books, save 30%; or any 4 or more books and save 40% off!



REST OF THE WORLD READERS
6.95