Books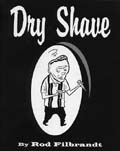 If you like your comic strip characters cute and cuddly, you'll hate Dry Shave. Dry Shave cracks open a hardboiled world of laconic lowlifes, pugnacious palookas, shiftless grifters and demented dames—with a tip of the pork-pie hat to Robert Mitchum. As featured in Vancouver's The Georgia Straight and Toronto's eye weekly magazine, Rod Filbrandt's wacky cast of noir characters is brought together in his first collected edition.
ISBN 1895636213
5.5 x 6.75 | 120 pp
12.95 CAN / 10.95 US
Rights available: World
ANVIL PRESS BOOKSTORE
Payments processed by PayPal
Happy Holidays: Buy any 2 books, save 20%; any 3 books, save 30%; or any 4 or more books and save 40% off!



REST OF THE WORLD READERS
10.95