Books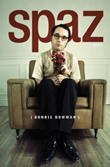 Meet Walter Finch, an ungainly kid who survives his cloying suburban childhood to make it only as far as the local mall, where he rises through the ranks to become manager of a shoe store. Unlike his other childhood friends who either flee suburbia or remain as resigned fixtures, Walter is content with his lot and finds the shoe store an ideal environment in which to pursue his grand ambition: designing the perfect woman's shoe.
As he delves further into his passion, alone in his apartment at night, Walter comes to believe that his path will ultimately lead him to the perfect foot to fit his creation. On an all-consuming mission to find his princess, Walter is plunged into a separate reality,
his own fairytale. As things spin steadily out of control, Walter's eventual salvation arrives in an unlikely form, should he choose to recognize and accept it.
{ Praise for Spaz }
Best of 2010!
"Spaz really is terrific. Bowman demystifies the aberrant. As in her debut novel, Skin (which I loved when I read it a decade ago), her themes are ugliness and beauty and how the body is the engine for desire. If that makes Spaz seem too serious, don't worry. It's jolly fun."
— Uptown Magazine (Winnipeg)
"Shoes have played a pivotal role in many lives, from Achilles' poorly considered open-back sandals to O.J.'s Bruno Maglis, and so it is with Walter Finch—two pairs set his life spinning (or more precisely, rolling and bobbing) on its strange and hugely readable path: a pair of orthopedic brogues as a youth, and a pair of red satin pumps with ice pick heels somewhat later. Deformity and fetishism: Bonnie Bowman has a keen eye for the weird within the everyday, and her fondly satirical characterizations are of a piece with those of David Foster Wallace, John Kennedy Toole, Joseph Heller and Kurt Vonnegut."
— John Armstrong author of Guilty of Everything and Wages
"Canadian author Bonnie Bowman's latest novel, Spaz, continues Bowman's trend of turning traditional fairy tales on their heads. … Bowman treads the delicate line between the absolutely absurd and the startlingly honest. She creates a world that is shocking and yet believable."
— The Charlatan (Carleton University)
"In this sly story of a misfit visionary, Bowman assembles a beguiling cast of characters, striking a perfect balance between the completely outrageous and the completely true-to-life. This is a novel that never stops entertaining."
—Lynn Coady author of Mean Boy and Strange Heaven
"Spaz is a funny and smartly written modern twist on the Cinderella tale. Think foot fetishes, familial dysfunction and suburban shopping malls subbing in for the land far away. Bowman has crafted a witty and warped (in a good way) tale of ostracism and acceptance with outcast Prince Walter Finch searching for his deck-shoe-wearing Princess, but unprepared for what happens when he finds her."
—Lisa Whittington-Hill, THIS Magazine
"… Spaz works because the author makes us care about Walter. She's taken a slightly broken personality and made him into a compassionate artistic visionary."
—NOW Magazine (Toronto)
Read the Open Book Interview with Bonnie, here:
http://www.openbooktoronto.com/news/word_street_interview_series_bonnie_bowman
ISBN 978-1-897535-27-1
5.25 x 8.25 | 368 pp
$20 CAN / $20 US
Rights available: World
ANVIL PRESS BOOKSTORE
Payments processed by PayPal
Canadian Customers
CDN $20


Rest of the World Customers
US $20