Books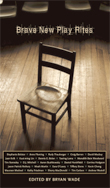 Brave New Play Rites presents twenty years of original and startling theatre from Canada's best young writers. The book is a collection of short one-act plays written by students in the Creative Writing Program at UBC and produced at the annual festival, Brave New Play Rites, for public performances.


Many successful writers have had their plays produced in the festival, including Lynn Coady, Steven Galloway, Dennis E. Bolen, Kevin Chong, and Aaron Bushkowsky. The release of Brave New Play Rites coincides with the 20th anniversary year of the festival, and the familiar names in this collection will be of interest both critically, and to readers who already follow the careers of these writers.

ISBN 1895636752
5.25 x 8.25 | 320 pp
25.00 CAN / 20.00 US
Rights available: World
ANVIL PRESS BOOKSTORE
Payments processed by PayPal
Happy Holidays: Buy any 2 books, save 20%; any 3 books, save 30%; or any 4 or more books and save 40% off!



REST OF THE WORLD READERS
20.00