Books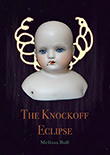 Melissa Bull's debut short story collection The Knockoff Eclipse hums with the immediacy of distant and future worlds. Firmly rooted in the streets and landmarks of Montreal and its many neighbourhoods and subcultures, Bull's characters shine with the dirt of digging just deep enough.


Dark like Duras, flippant comme Sagan, with elements of the surreal running through, these Montreal stories are modern feminist fables for the reader who is decidedly uninterested in upholding the moral of the story as it's been traditionally told.


MEDIA PRAISE:
"Bull's eye is unfailingly precise, and the best of these stories distill warped vectors of humanity into dry-ice absurdity and pitiful rawness. … Bull is a master provocateur, working through subtle, overlooked shades of experience to find some new level of exactitude in emotional injury."
— Montreal Review of Books


"… Bull's stories never have pat endings, adding an extra layer that enriches the collection."
— Quill & Quire


ADVANCE PRAISE:
"Melissa Bull is George Saunders and Clarice Lispector and Lorrie Moore and none of these people — she's her own vivid, mordant, heartbreaking story-writer, a teller of present and future Montreals, where desire and language and memory tangle in the alleys."
— Sean Michaels, author of Us Conductors


"In The Knockoff Eclipse, Melissa Bull captures the city of Montreal: its myths, history, languages, and energy. Reminiscent of Gallant's Montreal Stories, these tales grasp the grit of a contemporary Montreal and all of its human struggles . . . Contrary to its title, this collection is luminous."
— Gillian Sze, author of Panicle


"Wry, weird, and funny, Melissa Bull's collection looks at how we are deeply entangled with place as well as with each other. Holding fast to the senses, they are compassionate, dark, and true."
— Alison Winch, author of Trouble, and Girlfriends and Postfeminist Sisterhood


"This is the world I want to inhabit: full of gloriously flawed human beings, singular and part of a brilliant inclusive weave. These tales give me hope for the future."
— Sina Queryas, author of My Ariel, MxT, Expressway, Lemon Hound, and Autobiography of Childhood
ISBN 978-1-77214-120-7
5.25 x 7.5 | 160 pp.
$18 CAN / $18 US
Rights available: World
ANVIL PRESS BOOKSTORE
Payments processed by PayPal
ISOLATION DISCOUNT: 30% OFF ALL BOOKS: For a limited time, all books are 30 per cent off



REST OF THE WORLD READERS
$18