Books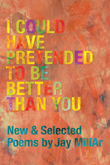 Spanning more than 25 years, I Could Have Pretended to Be Better Than You gathers work from three distinct eras of Jay Millar's development as a poet: the wonder years of the 1990s culled from a variety of self-published micropress publications, most of which are hiding in special collections, poems from his trade books issued between 2000 and 2015, and new poems that have emerged during his present condition as one of Canada's most progressive co-publishers.


The broad view that this collection offers enables an appreciation of Millar's work as both an idiosyncratic, herkyjerk chronicle of small press culture and a multifaceted mode of questioning how we judge sensations, failures, affections, and relationships. However irreverent he may seem, Jay Millar possesses a disarmingly honest, inventive sensibility closely attuned to the everyday, the overlooked, the transient. Be careful where on your bookshelf of Canadian poetry you place this volume: it might very well set others askew.


Praise for MillAr's work:


MillAr's writing foregrounds a wry self-awareness: most of the poems thematize themselves as poems, as avowedly contingent verbal artifacts (as in the title poem: "I'm tinkering with these lines . . ."). Another preoccupation in his work seems to be with collisions of representation and violence, as in "More Trouble with the Obvious," where in a kind of dark comedy of innocence he describes how "kids" turn found objects into imaginary guns, which still – as mundane alchemies, blurring creativity into threat – have the potential to "blow you away."
—Kevin McNeilly, Frank Styles Blog


Timely Irreverence from Jay Millar brings another sardonic yet insightful perspective from the Canadian perspective, well worth considering.
—John Taylor, Midwest Book Review


"Jay MillAr's poetry is cool, contemplative, and novel … these poems delicately and irreverently carve poetic commotion into out distracted psyches."
— Nicole Markotic


"Sharp, sardonic and immensely playful"
— Meredith Quartermain


"These poems layer the quotidian with such tenacity, and with such clarity, that it becomes hard to distinguish the world from the poem."
— Fred Wah
ISBN 978-1-77214-124-5
5.25 x 7.5 | 192 pp.
$20 CAN / $20 US
Rights available: World
ANVIL PRESS BOOKSTORE
Payments processed by PayPal
ISOLATION DISCOUNT: 30% OFF ALL BOOKS: For a limited time, all books are 30 per cent off



REST OF THE WORLD READERS
$20