Books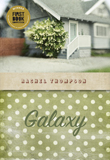 Galaxy is about a wounded family (Anger brimming until it overflows / into rage in the dark living room, / his undershirt soaked through / up the back to his collar), a prairie place (Ochre River girls / have a one-room school, / walk through fields of wheat, / play in silos, storing grain dust / in their lungs, / later to exhale it / like cloudy fire), love that is queer and conventional, about longing and loss (tempus fugit / my father emails, / now or never, / and I can't I don't / wish to speak to my mother. / I don't believe the mere flight of time / is reason enough) and a light shone into dark corners.
Galaxy is "emotional biography"—as Magaret Laurence called it—(Sometimes I have breathed flame, / I admit that my words—provoked— / have burned) where the facts are fabricated ("tell it slant," said Emily Dickinson), but the feelings are authentic.
"A truly wonderful collection of poems. Wonderful and clear imagery as well as a "real" and "true" sense of place, love, longing, family, and the constant struggle and re-negotiation of self and experience. Galaxy possesses a simple but sensual approach to language and tone."
—Gregory Scofield, author of kipocihkan: Poems New & Selected
ISBN 978-1-897535-71-4
5.5 x 8 | 104 pp
$16 CAN / $16 US
Rights available: World
ANVIL PRESS BOOKSTORE
Payments processed by PayPal
Happy Holidays: Buy any 2 books, save 20%; any 3 books, save 30%; or any 4 or more books and save 40% off!



REST OF THE WORLD READERS
$16