Books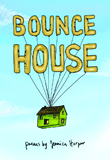 Bounce House is a collection of small containers for the uncontainable. Restrained in form but not feeling, Harper's fourth book explores the cyclical nature of grief, imperfect parenting, and our willingness to jump without promise of a safe landing.


Measured and meticulously weighted, these poems are playful and poignant as they navigate the strange terrain around losing a loved one: how the past and present blur together, the dead simultaneously here and missing, and how joy moves inevitably forward, as if on wheels.


Praise for Bounce House:
"Where Bounce House succeeds most is the poem's encapsulation of our lives as a bounce — from the liminal space we exist in between our own birth and death, and the small, liminal existence of humanity in history, space and time."
—The Manitoban


On Jennica's previous work:


"Jennica Harper is the poet whose books I stay up reading late into the night."
—Kerry Clare, 49th Shelf


"Whether or not you're a poetry person, her plainspoken and perceptive voice will win you over."
—Melanie Bell, Autostraddle
ISBN 978-1-77214-140-5
5.5 x 8 | 72 pp.
$18 CAN / $18 US
Rights available: World
ANVIL PRESS BOOKSTORE
Payments processed by PayPal
ISOLATION DISCOUNT: 30% OFF ALL BOOKS: For a limited time, all books are 30 per cent off



REST OF THE WORLD READERS
$18