Books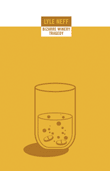 Bizarre Winery Tragedy is a book of lyric poems about country folk, city folk, alcohol and urbanism. These poems continue Neff's quest to explore the modern-day juxtaposition of urban and rural landscapes, and the lines of power between the countryside and the metropolis-firewood, dams and the WiFi-enabled grid. Deeper insights emerge in this, the author's third published collection. Bizarre Winery Tragedy is 21st-century poetry that juggles death and technology and finds some nasty laughs in the process. Think of it as a strange and tragic road trip through British Columbia's wine-consuming regions, with Neff at the wheel.
Praise for Lyle Neff:
"These poems pack a wallop. They're full of outrage and bravado, tempered by amazing insights and a highly developed musical sensibility. They 'steam and churn' with the energy of the city, they burn with this young poet's 'hottest fire of sight'." —Lorna Crozier
"Lyle Neff understands, without the melodrama and hysterics of so many of his contemporaries, the duality of his natural surroundings-trees and skyscrapers, mountains and public transit-and never once portrays this with anything less than a lyric beauty full of imagination, humour, and optimism."
—Evan Jones, New Canadian Poetry
"Lyle Neff's as indiosyncratic and epigrammatic, as off-kilter and dead-on, as insolent and restless and thoughtfully skilled as a poet should be. From here on in almost everybody else is playing catch-up."
—Michael Holmes
ISBN 1-895636-66-3
5 x 7 | 64 pp
14.00 CAN / 12.00 US
Rights available: World
ANVIL PRESS BOOKSTORE
Payments processed by PayPal
Happy Holidays: Buy any 2 books, save 20%; any 3 books, save 30%; or any 4 or more books and save 40% off!



REST OF THE WORLD READERS
12.00