Books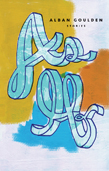 As If is a collection of stories that reminds us that all literature—indeed awareness itself—is at first speculative. These stories confront the false certainties of the industrial and digital mechanisms of our age and, in the great fabulist tradition, call upon their characters to turn possibilities into action.


The stories are set in Vancouver and the prairies, and they are grounded in the people who live there, whose successes and failures are kick-started by abrupt changes in their physical world. How the characters react to those challenges tests their understanding of who and where they are. As if.


PRAISE FOR AS IF:


"From the little lies in 'Joy' to sudden loss in 'As If,' to Mr. Jimmy in 'The Painted Hand,' Goulden looks at all the ways one's world can collapse. Each story works to steal the floor out from under its protagonist, with little or no warning, giving the overall impression that there's no such thing as sure footing in this world."
— BC Bookworld
ISBN 978-1-77214-048-4
5.25 x 8 | 140 pp
$18 CAN / $18 US
Rights available: World
ANVIL PRESS BOOKSTORE
Payments processed by PayPal
Happy Holidays: Buy any 2 books, save 20%; any 3 books, save 30%; or any 4 or more books and save 40% off!



REST OF THE WORLD READERS
$18