Books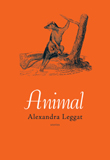 Finalist for the Trillium Book Award
The stories in Animal depict people on the brink of major life change. Often at a crossroads they are oblivious to, Leggat's characters seem to be captured in a cinematic slo-mo, teetering on the edge of something unknown, heroically resisting the ever-present pull of Fate. It matters little whether the characters take action or refuse to act; life acts for them. The reader is left to wonder: When does "meaning" cease to have meaning? Like travelling a mountain highway at night, what's just around the next bend is never known. The stories in Animal never fail to deliver potent surprises.
———
"I'm tempted to say it's a slim, distilled masterpiece."
– Michael Bryson, Underground Book Club
"these quickly unfolding stories are elliptically drawn, tense with action and dark humour. Leggat is a shape-shifting writer"
– Ibi Kaslik, The Globe and Mail
"this immensely rewarding collection is worth picking up"
– eye weekly
"Most short story collections are up and down. Unlike most, however, Animal is more than the sum of its parts."
– Herizons
"Animal is a great book that can be read over and over, offering up something new each time."
– Star Phoenix
"broad literary range … Her writing just gets stronger, more confident, variable and — above all — human."
– Front&Centre
"Leggat's spare prose further adds to the impression of absolute economy. Rather than taking away from the collection's impact, however, Leggat's care and concision results in some expertly calibrated stories, leaving the reader both satisfied and wanting more."
– Winnipeg Free Press
ISBN 9781897535011
5.5 x 8 | 160 pp
$18 CAN / $18 US
Rights available: World
ANVIL PRESS BOOKSTORE
Payments processed by PayPal
Happy Holidays: Buy any 2 books, save 20%; any 3 books, save 30%; or any 4 or more books and save 40% off!



REST OF THE WORLD READERS
$18