Books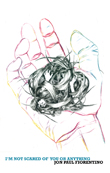 By Jon Paul Fiorentino (Illustrated by Maryanna Hardy)
The characters in I'm not Scared of You or Anything are invigilators, fake martial arts experts, buskers, competitive pillow fighters, drug runners, and, of course, grad students. This collection of comedic short stories and exploratory texts is the ninth book by the critically acclaimed and award-winning author Jon Paul Fiorentino. Deftly illustrated by Maryanna Hardy, these texts ask important questions, like: How does a mild mannered loser navigate the bureaucratic terrain of exam supervision? What happens when you replace the text of Christian Archie comics with the text of Hélène Cixous? And, most important of all, what would it be like if
Mr. Spock was a character in the HBO series GIRLS?


Illustrated throughout by the wonderful, full colour artwork of Maryanna Hardy!


ADVANCE PRAISE FOR I'M NOT SCARED OF YOU OR ANYTHING


"I'm sure something scares Jon Paul Fiorentino, and maybe it drives him toward the deadpan magic he
wields so masterfully in these pages. This is a daring and funny collection."
—SAM LIPSYTE


"Fiorentino takes the path you're on in life and sidesteps it just enough to create surreal little worlds, worlds where you can't help but burst out laughing. A master of dark, comedic timing, he's perfectly complemented by the delicate, terrifying, and hilarious illustrations of Maryanna Hardy. This book is one of my favourite reads in ages."
—CHIP ZDARSKY


"I'm Not Scared of You or Anything is a collection for readers bored by more traditional CanLit. It's a book of outcasts, misfits and underdogs written for outcasts, misfits and underdogs.

Unfiltered, Fiorentino deftly writes what some of us may think from time to time, but would never dare say aloud. He really isn't scared of anything. … I'm Not Scared of You or Anything is accompanied by more than two dozen illustrations by Montreal artist Maryanna Hardy, whose artwork on the front cover alone is stunning."
— WINNIPEG FREE PRESS


PRAISE FOR FIORENTINO'S WRITING:


"[Fiorentino's writing] is the embodiment of an imagination so wild, a wit so sharp and a sense of humour so dark."
—MONTREAL GAZETTE


"There is no mistaking Fiorentino's sharp wit and precise vocabulary, which are entirely individual—something far too few writers can claim."
—QUILL AND QUIRE


"Fiorentino is wickedly funny."
—THE GLOBE AND MAIL
ISBN 978-1-927380-94-9
5 x 8 (w/ French flaps + colour illus.) | 176 pp
$20 CAN / $20 US
Rights available: World
ANVIL PRESS BOOKSTORE
Payments processed by PayPal
Canadian Customers
CDN $20


Rest of the World Customers
US $20