Jon Paul Fiorentino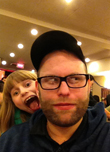 Jon Paul Fiorentino (author) is the author of Needs Improvement (Coach House Books), and the novel Stripmalling, which was short-listed for the Paragraphe Hugh MacLennan Prize for Fiction, and five poetry collections, including The Theory of the Loser Class, which was short-listed for the A.M. Klein Prize, and Indexical Elegies which won the 2009 CBC Book Club "Bookie" Award for Best Book of Poetry. He has written for The National Post, Walrus, Maisonneuve, subTerrain, The Huffington Post, and numerous other publications. He lives in Montreal, where he teaches Creative Writing at Concordia University and is the editor-in-chief of Matrix magazine.

Maryanna Hardy (Illustrator)


Maryanna Hardy has worked as an artist, illustrator and screen printer and has published her work in publications nationally and internationally. She has designed countless gig posters and chapbooks of her drawings, built and ran a screen–printing shop in Montreal, and has painted public murals in Montreal and Toronto. She has most recently exhibited her work through Gallery Pangee and Gallery Youn in Montreal. In 2009 and 2010 she collaborated with the YPF Collective on their large-scale installation at the Osheaga International Music Festival in Montreal. In November 2010, she published a book of her drawings with Conundrum Press called So I've Been Told. The book was short-listed for Montreal Expozine's 2010 Best Canadian Book and was also short-listed for a Doug Wright award for Best Avant-Garde Comic Book. She lives in Montreal.