Books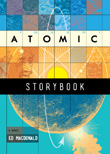 Atomic Storybook is a novel about a young painter named Owen who is regularly abducted by beings he calls "the space pricks." These otherworldly visitors perform experiments on him, befuddle him with an absurd riddle about the moon, and show him scenes from his previous lives — one as a 12th century English monk; in another he shares the ward with Albert Einstein's son, Eduard, in the Burghölzli mental hospital.
Through all of this, and his lengthy existential conversations with physics professor, Chesley Keeping, Owen comes to doubt the nature of everything around him — all that stuff most of us like to call "reality."
Atomic Storybook is a new novel from the author of Spat the Dummy. It's about the early years of Albert Einstein, an explosion on the moon, and a group of friends who feel like they are living in a long, strange dream. A delightful stew of lust, blood, ennui and physics, Atomic Storybook is also about living and dying in what is, undeniably, an illusion.


PRAISE FOR ATOMIC STORYBOOK
"Macdonald does an excellent job through multiple perspectives of keeping the reader on edge as to what is real and what is not. … It's a barometer of excellent writing when a novel can get you to stop reading, causing you to daydream and get lost in one magnificently imagined scene."
— THE WINNIPEG REVIEW
ISBN 978-1-927380-43-7
5.75 x 8.75 | 280 pp
$20 CAN / $20 US
Rights available: World
ANVIL PRESS BOOKSTORE
Payments processed by PayPal
Canadian Customers
CDN $20


Rest of the World Customers
US $20