Books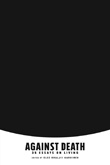 By Elee Kraljii Gardiner (Editor)

Against Death: 35 Essays On Living articulates the personal experiences of each author's "near-deathness," utilizing fresh and inventive language to represent what "magical thinking" proposes. These pieces are incisive and articulate, avoiding the usual platitudes, feel-good bromides, and pep talks associated with near-death encounters. The writing moves past the sob story and confronts the tough circumstance of facing death with truth and compassion, no matter how ugly or (in)convenient.


CONTRIBUTORS:
Adrian M. Zytkoskee * Aislinn Hunter * Amanda Earl * Angela Rawlings * Becky Blake * Ben Gallagher * Bruce Meyer * C. M. Faulkner * Elee Kraljii Gardiner * Emma Smith-Stevens * Fiona Tinwei Lam * Harry Langen * Jane Mellor * Jennie Duguay * Jennifer Van Evra * Jessica Michalofsky * Jill Yonit Goldberg * Joe Average * John Asfour * Kateri Lanthier * Kerri Power * Kiera Miller * Laurie Lewis * Lisa Neighbour * Maureen Medved * Moira MacDougall * Nikki Reimer * Rabi Qureshi * Rachel Rose * Rebecca Fredrickson * Sarah Lyn Eaton * Susan Briscoe * Susan Cormier * Tanis MacDonald * Vera Constantineau


"The writers of these essays are courage embodied, honesty defined, strength incarnate. They refuse to look away, to be polite, to soften the blow. If you are willing to go where they are brave enough to take you, you will emerge awake and aware, a little joyful, a little frightened, and determined to live a little bigger every day."
— Pam Houston, author of Deep Creek, Finding Hope in The High Country.


"The nimble, serious play of the title, Against Death: 35 Essays on Living, is an accurate reflection of the range of tones, approaches, and experiences with death (which is to say, living) inside this vibrant, tender collection. While one need not be grieving to find resonance here, those who grief has touched will not feel silenced or pushed outside. In eloquent, luminous prose, these essays will be a companion to many and will be a collection to return to (again lives inside against). As editor Elee Kraljii Gardiner reminds us, 'To be against something can be to reject or refute it. But to be against death can also mean to be in contact with, pressed up next to, to be intimately proximate with mortality.' This is all of us. I am grateful for this gathering and for this expansive (re)framing."
—TC Tolbert, author of Gephyromania and co-editor of Troubling the Line: Trans and Genderqueer Poetry and Poetics


"This collection is a primer on loss, grief, and the grit it takes to have a wide-awake encounter with death. It is a highly individualized, charged, and often lyrical training manual on the subject. The authors (several now gone) have each brought their best writerly powers, a laser-like observation, an unsparing eye to the task at hand. … The writers in Against Death do not sugarcoat or smooth over the capriciousness or the finality of death. They pull no punches. They show their naked fear, their grief, and their fight."
—The Ormsby Review
ISBN 978-1-77214-127-6
6 x 9 | 356 pp.
$22 CAN / $22 US
Rights available: World
ANVIL PRESS BOOKSTORE
Payments processed by PayPal
ISOLATION DISCOUNT: 30% OFF ALL BOOKS: For a limited time, all books are 30 per cent off



REST OF THE WORLD READERS
$22