Books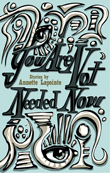 You Are Not Needed Now is a brilliant first collection of stories from Annette Lapointe, author of the Giller-nominated novel Stolen.


Often set within the small towns of the Canadian prairies, the stories in You Are Not Needed Now dissect and examine the illusion of appearances, the myth of normalcy, and the allure of artifice. Lapointe presents characters who are extraordinarily, awfully real. They are strange, vulgar, ugly, and messy, collecting blood-stained cotton pads and hairs from shower drains, slicing through skin to get more urgent medical treatment for testosterone withdrawal, storing the heart of a dead infant in a glass jar, kneeling on the dirty wet floors of a bathroom stall to perform oral sex.


Despite the diversity, strangeness, and complexity of her characters, Lapointe illustrates a remarkable understanding of each one. She knows them so intimately, and gives her reader the gift of knowing them, too. Lapointe is adept at looking closely, and while she exposes her characters' faults and vulnerabilities, humiliations and vanities, she also considers the ways in which society, lovers, institutions, and family operate to construct our desires, expectations, identities, and behaviours. Trapped in this inescapable place—life—her characters linger somewhere between apathy and obsession, compassion and cruelty, conflict and avoidance.


Lapointe's stories are illuminating and surprising, rich with nuance, originality, and depth.


PRAISE FOR YOU ARE NOT NEEDED NOW:

"Her stories are like the Prairies themselves: harsh and austere, but imbued with a rugged beauty. … They can also be downright weird."
— The Globe and Mail


"And while she is perhaps one of the least judgmental writers around, her characters, so immediately identifiable, aren't left off the hook. With her dark humour encased with stylish wit and an unflinching eye, Lapointe demands her characters take responsibility. … Above all, in this collection, Lapointe proves she is the most humane of writers, presenting the world as it is, warts and all."
— Winnipeg Free Press

ISBN 978-1-77214-093-4
5.25 x 8.25 | 232 pp.
$20 CAN / $20 US
Rights available: World
ANVIL PRESS BOOKSTORE
Payments processed by PayPal
ISOLATION DISCOUNT: 30% OFF ALL BOOKS: For a limited time, all books are 30 per cent off



REST OF THE WORLD READERS
$20