Books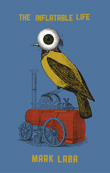 Mark Laba's second full-length poetry collection—and his first in seventeen years—brings to life the old variety shows he watched on TV as a child, shows forgotten in the vault of broadcast history. In The Inflatable Life, the reader will find a little singing, a little dancing, a little drama, a little comedy, a little experimentation. Laba draws on everything from gritty pulp fiction to Borscht Belt humour, from dime-store ventriloquism to twelve-cent comic books, hurling his surprising and often shocking vaudeville narratives from the peak of the Jewish Alps. Some may call these surreal poems literary atrocities while others hail them as lyricism for an impossible century. Thing is, if Mark Laba didn't write these poems, no one else would.


ADVANCE PRAISE FOR THE INFLATABLE LIFE


"Laba is a virtuoso philosopher clown, the lovechild of John Ashbery and Groucho Marx, the Coen Brothers and James Tate, dancing on the jiggly high wire of our absurd, troubling, and hilarious carnivaleque times, his poems finely attuned to the tang, the joy and sorrow, the nostalgia and surprise of our present moment. With disarming depth and insight, these hilarious yet strangely probing poems show us what it means—what it can mean—to live in a semiotic funhouse, to have language and be alive with its crazy delight."
—GARY BARWIN


"The Inflatable Life is a dizzying literary dream world where one moment you're in a retelling of 'The Cask of Amontillado' but the wine cellar is a wall unit and the murder story narrated by a wall-unit emporium owner named Phil—and the next you're in 'Tolstoy's Leech Farm' with a sprained ankle who grows a beard and a poet who 'belches insignificantly.' Laba presents uncanny poetic reveries with humour reminiscent of Russell Edson and James Tate. He always delights, occasionally disturbs, and often surprises. Read this book. Please."
—KATHRYN MOCKLER


"The Wikipedia article for bathos adds a caveat that it contains 'indiscriminate, excessive, or irrelevant examples' and asks users to 'please improve the article by adding more descriptive text and removing less pertinent examples.' With his late-career masterwork, The Inflatable Life, Mark Laba shows us he is the crown prince, nay the poet laureate, of his own brand, call it labathos, of sudden, gear-clashing shifts from the sublime to the ridiculous and back again. Readers will find encomiums to luncheon meat and hot sausages, imprints of anchovies dreaming of hamburger meat, the odd swipe at Nazi artifacts and the 'monster of Baden-Baden,' Wallace 'Beery' Stevens. Please improve these poems by reading them."
— CLINT BURNHAM author of Pound @ Guantánamo


A Feed Dog Book / An Imprint of Anvil Press / Imprint Editor: Stuart Ross
ISBN 978-1-77214-142-9
5.25 x 8.25 | 80 pp.
$18 CAN / $18 US
Rights available: World
ANVIL PRESS BOOKSTORE
Payments processed by PayPal
ISOLATION DISCOUNT: 30% OFF ALL BOOKS: For a limited time, all books are 30 per cent off



REST OF THE WORLD READERS
$18