Books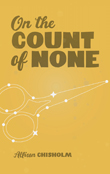 On the Count of None is the first full-length poetry collection by Kingston poet Allison Chisholm. The surprising poems in this audacious debut explore the relationship between the serious and the absurd, the formal and the illogical, whimsy and threat, and meaning and tone. Chisholm's poems—whose content is often inspired by guidebooks, podcasts, birth notices, and other unlikely sources—are pretty sneaky: they seem to always be trying to get away with something. Sometimes they try to get away with sneaking in invented words and idioms and facts. These are poems whose language looks both ways before licking the envelope.


Advance Praise for On the Count of None:


"Allison Chisholm's poems are plain-talking spirals of wit and description. She walks the reader along a path of surprises— a straightforward line steps to another straightforward line, but getting there involves Escher-like angles. What a great first book, full of a persuasive and clear form of surrealism!"
– Alice Burdick, author of Deportment and Book of Short Sentences


"There are lots of rewards among these lines. I like especially the poems that implicitly and pointedly criticize our culture— and I love Allison's deadpan humour."
– Nelson Ball, author of Certain Details and Walking


"Allison Chisholm introduces us to a world where things are at once placed in careful order and blown delightfully apart. There are surprising pleasures tucked into these succinct poems."
– Jaime Forsythe, author of I Heard Something and Sympathy Loophole


A Feed Dog Book / An Imprint of Anvil Press / Imprint Editor: Stuart Ross
ISBN 978-1-77214-125-2
5.25 x 8.25 | 72 pp.
$18 CAN / $18 US
Rights available: World
ANVIL PRESS BOOKSTORE
Payments processed by PayPal
ISOLATION DISCOUNT: 30% OFF ALL BOOKS: For a limited time, all books are 30 per cent off



REST OF THE WORLD READERS
$18