Books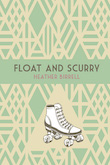 In acclaimed short-fiction writer Heather Birrell's rollicking debut full-length poetry collection, Mr. T, Joni Mitchell, Fidel Castro, and the poet's mother (among others) barge in to distract and derail the poet's dreams. The poems in this book are playful, hallucinatory, and often funny. They explore the far-fetchedness and perseverance of love between friends and family members, the importance of libraries and locked mental health wards, and ways to live with meaning in the face of a looming apocalypse. Birrell's poetry lines—weaving through an acrobatic breadth of forms and tones—are both precise and plainspoken, and showcase an odd, intuitive logic, embracing the surrealism of this world we're stuck in.


A Feed Dog Book.


ADVANCE PRAISE FOR FLOAT AND SCURRY:


"Heather Birrell has an uncanny ability to read my mind, or perhaps — as Float and Scurry illustrates — I am not alone in seeing the beautiful in the mundane, or the purely ordinary in flights of fancy. The anxiety of modern life is hand in hand with humour and a battered but undaunted hopefulness, capturing the deliciousness of an inner life, either sleepwalking through dreams, or in the day-to-day pageant of our many masks. Knowing I had such a canny and capable tour guide, this book was a rabbit hole I was glad to dive into."
— RONNIE BURKETT, Puppeteer and Officer of the Order Of Canada


"In Float and Scurry the ordinary world turns hallucinogenically marvellous and mad. Overheard spats, insomniac dreams, postpartum despair, eighties TV — Heather Birrell stirs her cauldron and ladles out some powerful bad medicine. Drink it down and prepare for bedazzlement."
— SARAH HENSTRA, Governor General's Award–Winning Author of The Red Word
ISBN 978-1-77214-145-0
5 x 7.5 | 112 pp.
$18 CAN / $18 US
Rights available: World
ANVIL PRESS BOOKSTORE
Payments processed by PayPal
ISOLATION DISCOUNT: 30% OFF ALL BOOKS: For a limited time, all books are 30 per cent off



REST OF THE WORLD READERS
$18