Books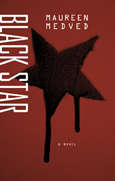 Del Hanks is on the verge of academic tenure, but at forty she's also perched on the precipice of either the beginning or the end of the rest of her life.


Black Star is a dark comedy, both bitingly funny and transgressive, an unflinching and unsentimental exploration of the female experience, academia, and the idea of power that burns in the mind as white as acid.


Medved's new novel is a searing critique of a world we all know too well – one of sexual exploitation, manipulation, and the subtle machinations of power that Black Star filters through the lens of academia. It is at once poetic, tragic, disturbing and funny.


WHAT REVIEWERS HAVE SAID:
"The interrogation of sexual power dynamics in the realm of academia could not be more relevant to the current cultural moment and Medved is merciless in dissecting the extent to which past wounds redound on Del in the present. The narrative shift from something resembling naturalism to a more stream-of-consciousness driven expressionism provides for a reading experience that is jarring and uncomfortable, though that is surely part of the novel's design. …"
— Steven Beattie, Hamilton Review of Books


"Black Star powerfully captures the overriding atmosphere of dread that defines much of academic institutional culture, tying it to the anxiety and paranoia that come from feeling that neither your employment nor your expertise is on solid ground."
— Eugenia Zuroski, Quill & Quire


ADVANCE PRAISE FOR BLACK STAR:
"This wild novel is a powerful exploration of imposter syndrome taken to extremes and a story of how the sadistic, competitive world of academia intersects with one woman's unraveling sense of self. Suspenseful and beautifully written."
— Zoe Whittall, author of The Best Kind of People (Giller Prize Finalist)


"You can read this slender swift novel as a comedy of manners, or a sly take on the corrosions of academe, but on its lower frequencies Maureen Medved's brilliant new book is about the death of dreams and our lost hold on truth and reality, an often funny but finally harrowing look at a dystopia that's come to reside in each of our souls."
— Charles D'Ambrosio, author of Loitering


"The Sleep of Reason Produces Monsters — so goes the title of one of Francisco Goya's more famous works. In Black Star Maureen Medved riotously complicates Goya's conceit: now the monsters are university profs pretending to be 'woke' rational beings. In prose lines razor-edged and tripwire-taut, and in a plot that burns as fast and bright as a dynamite fuse, Medved jolts to life a cast of academic washouts, Instagram careerists, vagrant idealists, and sex-deprived tenure-obsessed thought-experimentalists—each too exquisitely grotesque not to seem utterly authentic. At once black comedy, social critique, Kantian nightmare, and psychological thriller, this novel scarred me. And I am better for it."
— Chris Hutchinson, author of Jonas in Frames


"Maureen Medved masterfully explores her protagonists in all their spangled, fallible glory. Black Star plunges the reader into frantic academic rivalry. Is it paranoia or master manipulation? Every twist and turn will lead you down Medved's darkly compelling rabbit hole."
– Eden Robinson, author of Son of a Trickster


"Black Star delivers an indelible shimmer in a bittersweet novel that is funny and fast and paranoid. Black Star has a real voice, tragic and transcendent, hallucinatory and very real, a jinxed collision of charm and pain and eros and maybe even atonement."
– Mark Jarman, author of 19 Knives and My White Planet
ISBN 978-1-77214-112-2
5.25 x 8.25 | 232 pp.
$20 CAN / $20 US
Rights available: World
ANVIL PRESS BOOKSTORE
Payments processed by PayPal
ISOLATION DISCOUNT: 30% OFF ALL BOOKS: For a limited time, all books are 30 per cent off



REST OF THE WORLD READERS
$20