Books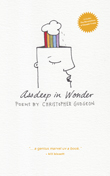 Assdeep in Wonder is a collection of heartbreaking and hilarious poems by "Canada's answer to Billy Collins." Raw and immediate, Gudgeon explores themes of addiction, sexuality, loss, love, and wonder in equal measures. In simple love poems like "Let's start small, my darling," everyday anthems like "Future Tops of America, and visionary dreams like "The Revelations of Donald Trump," Gudgeon tackles the tyranny of identity, the mystery of desire, the strictures of gender and the absurdity of homophobia in a style that's hypnotic and highly accessible.


There are also laments and homages to Canadian writers both dead and alive — from Milton Acorn and Al Purdy to bill bissett, David McFadden, Paul Quarrington and bpNichol –- while in his epic poem "Canadian Tourister" Gudgeon mischievously unpacks every Canadian-ism to ever drop from our wind-chapped lips.


Assdeep in Wonder is Gudgeon's debut collection of poetry.


PRAISE FOR ASSDEEP IN WONDER:


"In wayward sonnets and Whitmanesque free-verse monologues, Christopher Gudgeon wields a blowtorch to highlight and rhapsodize our punked-out, pixellated, polyamorous world. He appropriates the overly self-"aware" voice of Donald Trump (who sings a bravura, hallucinogenic song to himself), issues what might be Stephen Harper's last official statement, and apostrophes a miscellany of CanLit phenoms, including Al Purdy and Patrick Lane. Choose your poison. Gudgeon's poetics is methadone shot into the veins of our contemporary polis. Or it's a highball: equal parts shrewd and suave, shaken with ice and a tender measure of wry."
— John Barton, author of Polari and For the Boy with the Eyes of the Virgin: Selected Poems


"Christopher Gudgeon has writtn a genius marvel uv a book- epic intimate reel peopul in ventiv peopul in reel nd dreeming land n mindscapes / soul n lyrik partikulars n sweep reed "The Causes of Heterosexuality" n lines like "lemmings love it when they're right" n "sonnets written in the Bathhouse" will opn yr mind "Canadian Tourister" is a marvel n "everything has many names, few of them proper" opn th politics opn th love dreem opns all th opnings with langwage sew engayged n entransing – opns yu"
— bill bissett, poet and recipient of the George Woodcock Lifetime Achievement Award
ISBN 978-1-77214-052-1
5 x 8 | 96 pp
$18 CAN / $18 US
Rights available: World
ANVIL PRESS BOOKSTORE
Payments processed by PayPal
Happy Holidays: Buy any 2 books, save 20%; any 3 books, save 30%; or any 4 or more books and save 40% off!



REST OF THE WORLD READERS
$18