Books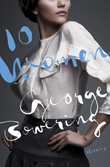 Ten Women is a new collection of short fiction from one of Canada's preeminent writers. Each of these stories offers us a portrait of a woman with whom the author may or may not have had either an intimate and/or a meaningful relationship. You can't really tell for sure. Depending on your proclivities, some of them might even seem pretty hot—like the lurid fantasies that illustrate the covers of pulp fiction novels, the ethereal intellectual beauties that emanate from poetic fields of asphodels, or the petit bourgeois housewives that litter Alice Munro stories, these ten characters remind us that for every fetish there's a partner.


Praise for 10 Women:
"the maestro is at it again"
— The Vancouver Sun


On Bowering's previous work:
"With powerful imagery and crisp narration, Bowering delivers a stinging commentary on the desperation of racism in the harsh environment of the Canadian West."
— Publishers Weekly


"One of Canada's most original writers."
— Calgary Herald


"Caprice is impossible to categorize. If anything, it's a poetic, insightful eulogy for the classic Western landscape…"
— Geist Magazine


"Bowering satirizes cowboy tales with great elegance and wit — while at the same time tipping his Stetson to the forgotten virtues of Canada's own West." — Maclean's
ISBN 978-1-77214-031-6
5.75 x 8.75 | 192 pp
$20 CAN / $20 US
Rights available: World
ANVIL PRESS BOOKSTORE
Payments processed by PayPal
Happy Holidays: Buy any 2 books, save 20%; any 3 books, save 30%; or any 4 or more books and save 40% off!



REST OF THE WORLD READERS
$20