Books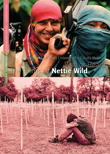 By Mark Harris & Claudia Medina
Pacific Cinémathèque Monograph Series #2 features Nettie Wild, one of the leading documentarians working in Canadian cinema today. Her work and her interests span the globe and also encompass issues of regional interest to the broader Western Canadian/British Columbia community.
She is best known for her feature length documentary films, A Place Called Chiapas (1998), A Rustling of Leaves: Inside the Philippine Revolution (1989/90), and Blockade (1993). A Place Called Chiapas won the 1999 Genie Award for Best Canadian Feature Documentary and has played theatrically in over 100 cities in cinemas across North America. Most recently, Ms. Wild produced and directed the award-winning FIX: The Story of an Addicted City, a film focusing on the struggle to open North America's first safe injection site in Vancouver's Downtown Eastside. She also directed Bevel Up: Drugs, Users & Outreach Nursing, an interactive teaching DVD produced by the Street Nurse Program of the BC Centre for Disease Control and the National Film Board of Canada.
Nettie Wild came to film from a background of journalism and theatre. Her radio documentaries of the Philippine guerrilla war and the snap revolution, which brought Mrs. Aquino to power, were carried extensively by CBC on programs such as Sunday Morning, As It Happens, Morningside, and Ideas.
ISBN 9781897535035
5 x 7 | 112 pp
$15 CAN / $15 US
Rights available: World
ANVIL PRESS BOOKSTORE
Payments processed by PayPal
Canadian Customers
CDN $15


Rest of the World Customers
US $15