Books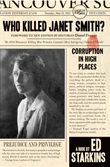 Who Killed Janet Smith? examines one of the most infamous and still unsolved murder cases in Canadian history: the 1924 murder of twenty-two-year-old Scottish nursemaid Janet Smith. Originally published in 1984, and out of print for over a decade, this tale of intrigue, racism, privilege, and corruption in high places is a true-crime recreation that reads like a complex thriller.


We are pleased to be reissuing this title as part of the City of Vancouver's Legacy Book Project. This new edition features a Foreword by historian Daniel Francis.


"… drug traffic, Roaring Twenties hedonism, official corruption, cutthroat competition among newspapers, a public taste for occultism, etc.—and entrust the whole works to a good storyteller, and you have one terrific political history of Vancouver."
— Geist Magazine


"Starkins has written an engaging and well-crafted popular social history of Vancouver in the ostensibly hopeful, materially buoyant 'flapper era' between the end of the slaughter of the Great War and the onset of the Depression. He reveals the serious fault-lines and profound anxieties of a community emerging in this decade from both its recent frontier past and a costly war into becoming a settled North American city. … this is a very worthwhile and informative case study, one that is likely to keep the conundrum in the title alive and encourage further research on the topic. … And who did kill Janet Smith and why? Despite the author's attempt to follow up as many leads as he could find, the answer remains elusive. Despite the presence of a smoking gun, whose hand pressed the trigger is still a mystery, although in an updated afterword Starkins warms to one explanation. As with all mysteries, that should remain for now a mystery."
— BC Studies


"Mr. Starkins excavates each layer of the story like an archaeologist with a trowel and camel-hair brush. He misses nothing. The result is one of those unputdownable reads that stays in your memory." — Howard Engel


"Researched to the hilt, this study in prejudice and privilege tells the story not only of a mysterious murder but of high society, British Columbia-style, in the 1920s. Fascinating."
— George Jonas


"Starkins cuts away at the layers with the delicacy of a neurosurgeon. What he uncovers almost defies belief."
— Quill & Quire


Full index from the book [PDF]
ISBN 978-1-897535-85-1
6 x 9 | 406 pp
$24 CAN / $24 US
Rights available: World.
ANVIL PRESS BOOKSTORE
Payments processed by PayPal
Canadian Customers
CDN $24


Rest of the World Customers
US $24