Books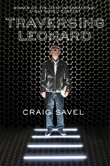 Paul is a young physics professor at a major university in New York state. He is drawn to Leonard Zavitsky, a once promising but now washed up and annoying ex-professor who is kept on the payroll as a custodian, more out of pity than any nod toward professor emeritus status.


The once great Zavitsky has some wild theories about quantum time travel, but he convinces Paul to accompany him on a journey through time—back to the 1950s, then further back into the 1930s.


Humorous, whimsical and dipped in science fiction, Traversing Leonard is a fast-paced first novel about a friendship that grows against the odds, about ambition driven by love and a never-ending search for a sense of belonging.
ISBN 978-1-77214-033-0
5 x 7.75 | 128 pp
$16 CAN / $14 US
Rights available: World
ANVIL PRESS BOOKSTORE
Payments processed by PayPal
Canadian Customers
CDN $16


Rest of the World Customers
US $14