Books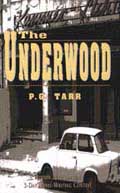 Winner of the 20th annual 3-Day Novel-Writing Contest.
The Underwood is a poignant tale of a parentless twenty-one-year-old pianist who lands the job of lounge entertainer in a once glorious and elegant establishment. Enter the young Foster Lutz, and the hotel—including the lives of its inhabitants—is set for a spell of splendour and rejuvenation.
A loss-of-innocence novel set in an atmosphere pervaded with nostalgia and a yearning for a bygone era. Holden Caulfield meets Barton Fink.
ISBN 1895636175
5 x 8 | 132 pp
11.95 CAN / 10.95 US
Rights available: World
ANVIL PRESS BOOKSTORE
Payments processed by PayPal
Canadian Customers
CDN 11.95


Rest of the World Customers
US 10.95