Books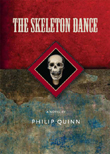 The Skeleton Dance takes place on the mean, formerly clean streets of Toronto before the century ticked over into the new millennium. This graphic novel artfully depicts the human casualties and debris piled up around the downtown bank towers.
Wiped out in the rush of the thousand-eyed crowd hurrying to beehive office cubicles, and unhinged by the death of a close friend, musician turned ad copywriter Robert Walker drifts into a hallucinogenic, violent world of drugs, pornography, and murder. His oldest and closest friend, the successful criminal lawyer Klin Abrams, greases his descent by betraying him to the Diamondbacks, a motorcycle gang trying to control the Toronto drug trade.
The story moves relentlessly forward with the quick pacing of a crime novel but the reader occupies a unique place, seeing the events unfold through the eyes of the potential victim.
Time's dogs are ready to bury Robert Walker's bones, diamondback rattlers writhe through his dreams, and the 21st century is about to be born.
Praise for The Skeleton Dance:
"Robert Walker, the novel's protagonist, is a drug-addicted ad writer who always seems to be on the verge of intensified trouble. You could call him down and out, it would be a fair assessment. The reader is close to all the dirty-doings through and through, whether or not one can sympathize with the circumstances depicted in the pages of the book doesn't really matter, it's all happening at hyper-speed, death-obsessed narration, with barbed dialogue and characters pitted against one another with the calculating cruelty of a brutal war."
—Broken Pencil, The Magazine of Zine Culture and the Independent Arts
"The terrain of The Skeleton Dance is marked by violation and futility which Quinn renders with finesse –from a "black hole" Parkdale crack house to a Forest Hill "situation where it's like Fellini; crazy high-priced whores and society cunts and their admirers" to the "aching guts, the water soap lather blood" of the Don Jail.
But what's most interesting about the novel is its examination of masculinity and sexuality—in particular, Robert's ambivalence about desire, his convoluted "queer knot", and the suggestive fissures through which he and Klin interact. At its heart, The Skeleton Dance is a love story, but one from which "beauty's long gone."
—Quill & Quire
Praise for Philip Quinn's previous work:
"Quinn has penned some of this country's most radical and ravishing prose."
—Derek McCormack, author of Dark Rides, The Haunted Hillbilly, The Show That Smells
"Too often, self-styled 'experimental' writers pay scant attention to the rigour and music of their words: not so with Quinn…. Seldom is a word wasted in this book. Throughout, too, dialogue is sharp with credibility and wit. More unusual, though, is Quinn's ability to present ideas, dreams, and obsessions not as cerebral abstractions but as corollaries of vivid, hallucinatory action."
—Melanie Little, The Globe and Mail (on The Double)
ISBN 9781897535042
5.75 x 8 | 168 pp
$18 CAN / $18 US
Rights available: World
ANVIL PRESS BOOKSTORE
Payments processed by PayPal
Canadian Customers
CDN $18


Rest of the World Customers
US $18