Books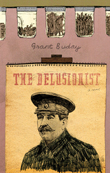 Kobzar Literary Award, Finalist
Eric Hoffer Award, Shortlist
City of Victoria Book Prize, Finalist

Vancouver, summer 1962. Cyril Andrachuk and Connie Chow are seventeen and in love.


Cyril is the only Canadian-born member of the Andrachuk family, his parents and older brother having survived Stalin's systematic starving of the Ukraine. His brother's brittle bones are not the only legacy of Stalin. Cyril's famine-free childhood has built up a distance between him and the rest of the household.


His family's past charges Cyril's present with bitter overtones he barely understands and Cyril's love of art is beyond his family's comprehension; Cyril is destined to be a working man, not a working artist.


In this house built on the edge of a cemetery, where his mother reviews the burials over her morning tea, creativity and joy are suspect. Mourning the early death of his father, Cyril finds solace in lovingly drawing his father's metal-working tools and in his happiness with Connie. But his family's resentment sows the seeds of betrayal, and Cyril must find a way to live with his family's past in order to find his future.


Art, love, and history furnish the setting in this tale. The Delusionist is a novel of longing, loss and rediscovered joy.


REVIEWERS ON THE DELUSIONIST:
"Subtle and elegant, his account of one's man's stumble-filled movement toward his fate commands attention and gives readers new ways to comprehend the process of maturation."
— THE VANCOUVER SUN


"Writers like Grant Buday remind us that a million deaths is not merely a number; it's a million individual tragedies."
— John Moore, BC BOOKWORLD


Reviewers on Grant Buday's writing:
"Buday's writing is lean, crisp, thoroughly engaging, and incisive . . . an exceptional talent."
—Quill & Quire


"a great storyteller" — Danforth Review


Dragonflies is "deeply imagined and exquisitely written."
—Goodreads
ISBN 978-1-927380-93-2
5.25 x 8.25 | 256 pp
$20 CAN / $20 US
Rights available: World
ANVIL PRESS BOOKSTORE
Payments processed by PayPal
Canadian Customers
CDN $20


Rest of the World Customers
US $20