Books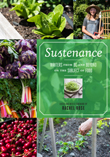 Sustenance: Writers from BC and Beyond on the Subject of Food brings to the table some of Canada's best contemporary writers, celebrating all that is unique about Vancouver's literary and culinary scene. Punctuated by beautiful local food photographs, interviews with and recipes from some of our top local chefs, each of these short pieces will shock, comfort, praise, entice, or invite reconciliation, all while illuminating our living history through the lens of food. Sustenance is also a community response to the needs of new arrivals or low-income families in our city. The contributors have donated their honoraria to the BC Farmers Market Nutrition Coupon Program. A portion of sales from every book will go towards providing a refugee or low-income family with fresh, locally grown produce, and at the same time will support B.C. farmers, fishers, and gardeners.


Frank Pabst (Chef, Blue Water Café), Renee Sarojini Saklikar, Mark Winston, Susan Musgrave, Lorna Crozier, Thomas Haas (artisan chocolatier), Meeru Dhalwalla (Chef, Vij's and Rangoli), Ayelet Tsabari, Joan Kane, Thomas Larson, John Pass, and Sarah Leavitt.
ISBN 978-1-77214-101-6
7 x 10 | 256 pp.
$25 CAN / $25 US
Rights available: World
ANVIL PRESS BOOKSTORE
Payments processed by PayPal
Canadian Customers
CDN $25


Rest of the World Customers
US $25