Books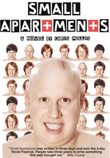 Often drawing comparison to comic classics like John Kennedy Toole's Confederacy of Dunces and Charles Portis's The Dog of the South, Small Apartments follows the misadventures of corpulent misanthrope, Franklin Franklin, as he tries to dispose of his dead landlord. Surrounded by quirky neighbours, strange fingernail collections, and the occasional blast from a treasured alphorn, Franklin slowly discovers that our lives are much more than the stories we tell ourselves. In fact, true happiness might just be a state of mind.
The underground cult hit that won the Grand Prize in the 23rd Annual International 3-Day Novel Writing Contest is now a major motion picture from Sony Entertainment directed by Grammy Award winner Jonas Akerlund and starring the most refreshingly offbeat cast ever assembled for a dark indie comedy.
Praise for Small Apartments:
"a coffee-fueled, plot-weaving, literary juggernaut."
— Playboy
"brisk and compact … surprisingly expansive thematic breadth, a thoughtful, silly yet serious study in goofy pathos."
— Globe and Mail
"Small Apartments was written in three days and won the 3-Day Novel Contest. People take three years to write something this well thought out. The reason for me to do the movie was the story and the character."
–- Billy Crystal
"Singularly weird."
–- John DeFore, The Hollywood Reporter
"Warped, witty, wonderful."
— Jarrett Wieselman, Entertainment Tonight Online
"Hilariously clever and smart."
— Tony Farinella, 411Mania.com
"The book is really well written. Small Apartments is a metaphor for thinking and living your life. A really funny comedy with really strong characters. On top of that, it has this very serious undertone."
— Jonas Akerlund, Grammy-winning film and video director
"It's dark and warm at the same time, which is quite rare. It's a murder-mystery and, I think, in some ways it's a bit of a love story."
— Matt Lucas
"Something very unique. Absurd and irreverent. Sometimes we have too much time to think. Just go into the madness and play."
— James Marsden.
"Tommy Balls sets his goals real low and hits them about half the time. Awesome. Fuck yeah!"
— Johnny Knoxville
"It's this incredible combination of a lot of different emotions. It made me go on a roller coaster with my feelings, and I love that. All the characters are so alive and so interesting. Every one has their own story that you could happily watch a movie about just them. I think the movie is going to really make a stamp."
— Juno Temple
"The landlord is sort of the main character in a very strange, strange way. I'm sure it's going to become a cult movie. It's just nice to be involved in something that is a little bit different than the big studio paint-by-numbers. These are the movies you want to do … that give you soul."
— Peter Stormare
"I think (the film is) going to be kickass. And if it's not, then I'm a monkey's uncle."
— Rosie Perez
ISBN 978-1-927380-63-5
5.5 x 8 | 128 pp
$16 CAN / $16 US
Rights available: World
ANVIL PRESS BOOKSTORE
Payments processed by PayPal
Canadian Customers
CDN $16


Rest of the World Customers
US $16