Books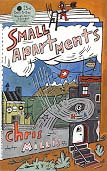 Winner of the 2000 3-Day Novel-Writing Contest
A capricious comedy of errors, Small Apartments resonates with tremulous energy and memorable characters. Franklin Franklin is a fully realized and sympathetic protagonist in the vein of Ignatius Reilly (A Confederacy of Dunces), a simple man who yearns for "a land of pastoral serenity" devoid of the irritants of contemporary urban life. An offbeat tale, Small Apartments is accented along the way by murder, strange fingernail collections, and the occasional blast from a treasured alphorn.
Small Apartments is now a majorly quirky motion picture starring Matt Lucas and Peter Stormare. The cast co-stars Dolph Lundgren, Johnny Knoxville, James Caan, Billy Crystal, Juno Temple, Saffron Burrows and Amanda Plummer.
A new edition of Small Apartments is available now.
ISBN 1895636353
5 x 8 | 128 pp
CURRENTLY OUT OF PRINT CAN / CURRENTLY OUT OF PRINT US
Rights available: World
ANVIL PRESS BOOKSTORE
Payments processed by PayPal
Canadian Customers
CDN CURRENTLY OUT OF PRINT

US Customers
US CURRENTLY OUT OF PRINT

Rest of the World Customers
US CURRENTLY OUT OF PRINT