Books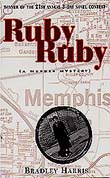 Winner of the 1998 3-Day Novel-Writing Contest
Meet Jack Minyard, a nice, liberal, milk-drinking, hockey-playing white-bread Canuck from Saskatoon who's stuck down in Memphis, Tennessee workin' for a security company and moonlighting as a private dick.
Ruby Ruby is a soft-boiled murder mystery that follows the trail of our expatriate Canuck as he tries to sleuth out the answers to a puzzling series of pointless and apparently motiveless murders: Who'd want to kill a sixtyish night watchman guarding an abandoned pie factory?
Jack Minyard might have some answers, but then again a hard-drinkin' night shift bus driver named Lomas sees a lot of things that he doesn't always talk about . . . at least not until he's slurrin' drunk.
ISBN 189563623X
5 x 8 | 128 pp
12.95 CAN / 9.95 US
Rights available: World
ANVIL PRESS BOOKSTORE
Payments processed by PayPal
Canadian Customers
CDN 12.95


Rest of the World Customers
US 9.95