Books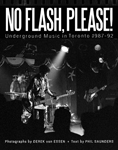 By Derek von Essen (Text by Phil Saunders)

The music scene in the mid-eighties was in transition, just as the entire music business was, unaware that it was all about to change in 1991 when Nirvana's watershed release, Nevermind would unexpectedly hit number one on the Billboard chart. But that explosion didn't happen over night. It was the product of years of music scenes like Toronto's developing, clubs seeking original music and communities of musicians, artists and fans supporting them.


No Flash, Please! documents an important period in Toronto's music community. As seen and heard by two journalists covering it for a number of monthly independent magazines, not only did they experience the local bands they knew and loved becoming famous, they also witnessed soon-to-be legends, come through those same clubs and concert halls. Nirvana, Sonic Youth, Jesus Lizard, Mudhoney, Soundgarden, Red Hot Chili Peppers, Henry Rollins, all played Toronto during this period and von Essen's camera and Saunders' ears were there to witness their performances in crowds that varied in size from 20 to 500. No Flash, Please! doesn't just focus on the music, it also captures the crowds and the community that spawned one of the richest periods in Toronto's music history.


PRAISE FOR NO FLASH, PLEASE!


"An incredible and vital time capsule…captured in vivid and lively words and strikingly perfect and indelible images. This is an essential document of not only Toronto at the end of the 80s, but rock and roll itself at that crossroads between the death of old punk and the birth of the 90s indie scene. As historical as it is timeless, No Flash Please! does it justice and does it proud."
—Paul Myers author of A Wizard A True Star: Todd Rundgren In The Studio and former leader of Toronto indie band The Gravelberrys.


"There was so much happening in Toronto during the late 80s and early 90s. It's about time we documented that excitement. We need more books like this."
—Alan Cross, Producer and Broadcaster — The Ongoing History of New Music — CFNY 102.1 The Edge


"Essential on numerous levels. Derek von Essen's riveting photos and Phil Saunders' insightful first-hand historical context blend seamlessly to galvanize Toronto's role in an all-too-brief global cultural revolution. Moreover, No Flash Please! is a timely reminder of the true value of rock and roll in our current, sadly disposable era."
— Jason Schneider, co-author of Have Not Been The Same: the CanRock Renaissance 1985-1995
ISBN 978-1-77214-037-8
7.5 x 9.5 | 256 pp
$28 CAN / $28 US
Rights available: World
ANVIL PRESS BOOKSTORE
Payments processed by PayPal
Canadian Customers
CDN $28


Rest of the World Customers
US $28