Books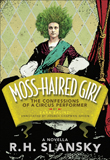 Joshua Chapman Green is searching for answers. He is combing through boxes in the attic of his recently deceased mother's home and uncovering childhood memories, mysterious letters, and perplexing photos of people he does not know. They appear to be circus performers, members of a travelling freak show, or Victorian era sideshow performers. Then he finds a crumbling copy of Moss-Haired Girl: Confessions of a Circus Performer by Zara Zalinzi . . . the clasp falls away and the pages open revealing a family story that may or may not be fiction . . .


In this ambitious short novel, R.H. Slansky weaves a complex narrative about the very nature of narrative: it is an annotated re-issue of a fictional autobiography that casts a questioning eye on the reliability of family lore.
ISBN 978-1-77214-002-6
5.5 x 8 | 72 pp
$16 CAN / $16 US
Rights available: World
ANVIL PRESS BOOKSTORE
Payments processed by PayPal
Happy Holidays: Buy any 2 books, save 20%; any 3 books, save 30%; or any 4 or more books and save 40% off!



REST OF THE WORLD READERS
$16