Books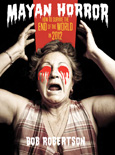 On December 21st, 2012 the eerily accurate Mayan Calendar, which goes back over 5,000 years, suddenly comes to a stop. Obviously this means only one thing: the world will end. What no one knows is how the world will end and that's where this book will be an invaluable companion as the conflagration begins. Will it be a massive earthquake, a biblical-sized flood, fire, hailstorms or swarms of gnats?
Bob Robertson has taken each of these possible end-of-time scenarios and explained in great detail how you and your family can come out smiling after a cataclysm destroys the earth. You'll also learn about the Mayans who created this killer calendar. All your questions will be answered. Is Maya Angelou a Mayan? Will your iPhone work after the planet is destroyed? Should you start collecting pairs of animals? Can you make money amidst the rubble of a post-apocalyptic world? Mayan Horror provides comforting answers to every question. You'll also learn about the crack team of Disaster DJs ready to take over the airwaves of Canada at the first sign of Doomsday. There's even a chapter giving you the Top 10 safest places in Canada to be when the world comes to an end. Number One? The Diefenbunker, built to save you from a Diefenblast. Mayan Horror: How to Survive the End of the World in 2012 is the only handbook you'll want to have in your pocket when the Mayan Calendar ticks down and all Hell breaks loose.
Bob Robertson on Studio 4 with Fanny Kiefer
ISBN 978-1-897535-87-5
5.75 x 8.75 | 160 pp
$16 CAN / $16 US
Rights available: World.
ANVIL PRESS BOOKSTORE
Payments processed by PayPal
Canadian Customers
CDN $16


Rest of the World Customers
US $16