Books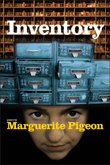 Inventory is a collection of 58 object poems. Taking as a starting point the reciprocal relation between subjects and objects, the book explores the unique way that objects appear in an individual consciousness. Each object in this Inventory exists on its own and also reflects the author's experience, from the mundane stapler and tea bag, to the mysterious, extinct dodo bird, to entities that blur the line between person and thing.
In this way, the collection highlights the often hidden dimensions of the objects we encounter, including their temporal, political, locational and psychic aspects. It offers an opportunity for readers to reconsider their own investments in what, by dictionary definition, should be static categories.
Praise for Inventory:
"Inventory by Marguerite Pigeon examines life's often forgotten elements. From her portrait of "meaning" to her idyllic details of a clothespin, Pigeon is a master of naked realism and organic descriptions of expression. Her first publication, lnventory, was short-listed for the 2010 Gerald Lampert Memorial Award. The book explores the lucid philosophy of simple pleasures – it's a refreshing truth bound in a small package.
lnventory is a front-to-back read that meshes simplicity and intricacy in a witty and intelligent style. Pigeon's work is a gem of purity in a complex world."
—Poetry is Dead
ISBN 1895636973
5 x 7.5 | 80 pp
$15 CAN / $15 US
Rights available: World
ANVIL PRESS BOOKSTORE
Payments processed by PayPal
Canadian Customers
CDN $15


Rest of the World Customers
US $15