Books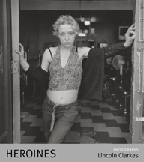 Winner of the City of Vancouver Book Award


Heroines is an epic documentary of addicted women in Vancouver, Canada. In 1997, photographer Lincoln Clarkes turned his lens away from the world of fashion and began documenting the dire circumstances endured by the marginalized women living and working on the streets of the city's Downtown Eastside.


University of Western Ontario professor Kelly Wood writing in Philosophy of Photography states, "Heroines forced viewers and respondents to take sides in an uneasy ethical dialogue that does not acknowledge the series' uncanny ability to perform against viewers' expectations of certain visual categories and discusses how these expectations might preclude photography's ability to enact or incite political change."


The series includes more than 400 portraits of women in Vancouver's notorious Downtown Eastside. The photographs garnered extensive national and international media attention, which instigated immediate and profound impacts on the local community, social policies, and criminal investigations regarding missing women.


Heroines: A Photographic Obsession is an award-winning one-hour documentary film produced for Bravo and the Women's Television Network. The film is "a study in pain and intimacy, artistic expression fuelled by passion and moral outrage" accompanied by original poems written and narrated by Susan Musgrave. The documentary opened the Leipzig Documentary Film Festival and has been screened at several other festivals since its premiere in June of 2001.


PRAISE FOR HEROINES


"praised as humanizing a forgotten sector of society, and also condemned as exploitative and voyeuristic"
—VICE


"proof of Vancouver's horrific drug-addled underbelly and [gives] these long-neglected women a moment in the spotlight"
—HUFFINGTON POST


"images reveal a world of broken dreams and dangers, but also helped reclaim the identities of the women"
—DAILY MAIL (UK)


"macabre portraits haunt nation"
—THE GUARDIAN (UK)


"beauty in a beastly place" 
—LONDON OBSERVER (UK)


"one of the most timely, necessary and respectful books ever published in British Columbia"
— BC BOOKWORLD


"intimate, compelling and undeniably unsettling" 
— GLOBE & MAIL


"images [that] unsettled many people in a country that prides itself on its polite order and tightly woven social safety net"

— L.A TIMES MAGAZINE


"incredibly powerful" — TORONTO STAR


"imbued with powerful and sublime truth"
— BROKEN PENCIL
ISBN 1895636450
6.25 x 7 | 152 pp
29.00 CAN / 20.00 US
Rights available: World
ANVIL PRESS BOOKSTORE
Payments processed by PayPal
Canadian Customers
CDN 29.00


Rest of the World Customers
US 20.00