Books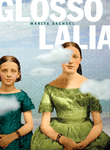 Glossolalia is an unflinching exploration of sisterhood, motherhood, and sexuality as told in a series of poetic monologues spoken by the thirty-four polygamous wives of Joseph Smith, founder of The Church of Jesus Christ of Latter-day Saints. In Marita Dachsel's second full-length collection, the self-avowed agnostic feminist uses mid-nineteenth century Mormon America as a microcosm for the universal emotions of love, jealousy, loneliness, pride, despair, and passion.
Glossolalia is an extraordinary, often funny, and deeply human examination of what it means to be a wife and a woman through the lens of religion and history.
Marita in conversation with Ariel Gordon at at The Jane Day Reader.
PRAISE FOR GLOSSOLALIA:
Glossolalia is a curious, wonderful book, in which a "self-avowed agnostic feminist uses mid-nineteenth century Mormon America as a microcosm for… universal emotions…". … Dachsel's wives are less a chorus than a cacophony, a crowd of dissonant voices, each shouting to be heard above the others. … But hear them, we do. The wives each emerge as distinct, aware, embodied, and it is the smallness and closeness of poetry (as well as their poet's talent) that brings them so to life."
— Pickle Me This
"Michael Ondaatje's Collected Works of Billy the Kid did it. Randall Maggs did it with Night Work: The Sawchuk Poems and now Marita Dachsel does it with Glossolalia. Dachsel so inhabits the characters and time of her story as to make it hyper real. … Dachsel brings the same sort of vivid, intimate focus, you think you can hear the quiet breathing of these women. … Glossolalia is simply riveting, it is hauntingly sad, it is a clear and articulate indictment of patriarchy and religion. … If I had a rating system this book would get all my stars."
— Michael Dennis' Poetry Blog
"… a series of monologues from the thirty-four polygamous wives of Joseph Smith … Through poems whose form varies as much as the personalities of the women, we're let in on a myriad of secrets and insights into sisterhood, motherhood and sexuality in mid-nineteenth century Mormon America. … Avoiding sentimentality Dachsel gives us a haunting collection that illuminates lives that were behind-the-scenes until now. This book is a jewel-like union of unique voices. Together they create a stunning stained glass piece soldered together into a choir of glass and light."
— Canadian Poetries
"Dachsel paints each poetic portrait with care, attempting to comprehend why they might have joined with Smith. The complex questions of what it means to be a wife, how it is possible for men and women to relate, and how dynamics of power affect and alter love and sex, are presented without clear answers. 'My heart is rutted like the prairie after frost,' reports one wife, and Dachsel's poems probe these ruts."
— Winnipeg Free Press
"… a fine and sparkling energy, something she brought to her first collection, All Things Said & Done (Caitlin Press, 2007) as well."
— Rob McLennan's blog
ISBN 978-1-927380-40-6
5.5 x 7.5 | 94 pp
$18.00 CAN / $18.00 US
Rights available: World
ANVIL PRESS BOOKSTORE
Payments processed by PayPal
Canadian Customers
CDN $18.00


Rest of the World Customers
US $18.00