Books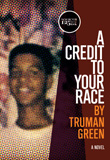 Set in Surrey, BC circa 1960, A Credit to Your Race is a story about innocent love awakening between a fifteen-year-old black porter's son and the white girl next door. The novel is a disturbing and convincing portrayal of how the full weight of racism and bigotry came to bear on a youthful, interracial couple.
A Credit to Your Race was published in 1973 in a press run of only a few hundred copies. We are pleased to be making this "lost" BC novel available to a new audience of readers as part of the City of Vancouver's Legacy Book Project.
"If isolation is a key theme of black B.C. writing, Green's protagonist Billy Robinson is the most fully-drawn expression."
– author and social historian Wayde Compton
ISBN 978-1-897535-86-8
5.5 x 8 | 160 pp
$18 CAN / $18 US
Rights available: World.
ANVIL PRESS BOOKSTORE
Payments processed by PayPal
Canadian Customers
CDN $18


Rest of the World Customers
US $18