Books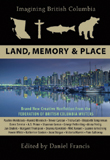 The twenty contemporary writers featured in this anthology have one thing in common: a connection to British Columbia, to a specific time, landscape, or community in BC. Their essays and memoirs have been inspired by, or are in some way affected by, the particular "sense of place" that sets that left-hand corner of the country apart from other provinces. Some are humorous; others are poignant. Whether describing a family history in Kitsilano, the difficulties fitting in as an immigrant, or a close encounter with a grizzly bear, these stories communicate a sense of belonging to, or a trying to find, a sense of place.
Some of Canada's best-known writers, all members of the Federation of BC Writers, are featured in this anthology, including Pauline Holdstock, Harold Rhenisch, George Fetherling, Howie White, Katherine Gordon, and, M.A.C. Farrant. The book features an introduction by editor Daniel Francis, a historian and author of twenty books.
ISBN 1895636906
5.5 x 8.25 | 216 pp
18.00 CAN / 18.00 US
Rights available: World
ANVIL PRESS BOOKSTORE
Payments processed by PayPal
Canadian Customers
CDN 18.00


Rest of the World Customers
US 18.00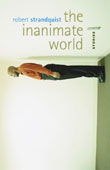 The Inanimate World is an affecting suite of stories, with a novella-length piece at its core. The stories within The Inanimate World traverse both rural and urban landscapes, exploring the terrain of the personal as much as the geographic. They span the time period of 1980 to the present, providing relevant insights into the private lives of people living through rapid social transformation and an unstable changing economy.
Sincere, germane, and tender tales of longing—for love, understanding, acceptance, and peace.
ISBN 1895636337
5.5 x 8.5 | 182 pp
16.95 CAN / 13.95 US
Rights available: World
ANVIL PRESS BOOKSTORE
Payments processed by PayPal
Canadian Customers
CDN 16.95


Rest of the World Customers
US 13.95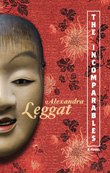 The Incomparables is the debut novel from the Trillium nominated author of Animal. Lydia Templar is obsessed with fabric, the texture and weight of cloth. Through fabrics, curtains, costumes, she expresses herself in a way she feels incapable of doing in words. For the past ten years she's apprenticed in the wardrobe department of a small Shakespearean theatre company and has finally been given the opportunity to showcase her designs. When she discovers her husband is having an affair with his leading lady, she seeks revenge the only way she knows how: she weaves her panic, pain, and paranoia into the costumes. It costs her the job. She swears she'll never sew again, packs her things, and returns to her mother and the sprawling country estate she left years ago. Lydia discovers that her mother has turned part of the large family home into a bed and breakfast.


When a group of counsellors from the city book the family's B&B for the summer to prepare for a special wedding ceremony, Lydia's plans to never thread a needle again are challenged. Through the one thing she cannot live without, the counsellors lure Lydia into a role she did not see coming — her self.


The Incomparables is a novel about ambition, betrayal, "failure," love, family dynamics, how we deal with societal, family, and personal expectations, and how we come to accept who we are.


REVIEWERS ON Animal

"I'm tempted to say it's a slim, distilled masterpiece."
— MICHAEL BRYSON, Underground Book Club


"these quickly unfolding stories are elliptically drawn, tense with action and dark humour. Leggat is a shape-shifting writer"
— THE GLOBE AND MAIL


"this immensely rewarding collection is worth picking up"
— EYE WEEKLY


"Most short story collections are up and down. Unlike most, however, Animal is more than the sum of its parts." – HERIZONS
ISBN 978-1-927380-62-8
5.25 x 8.25 | 320 pp
$20 CAN / $20 US
Rights available: World
ANVIL PRESS BOOKSTORE
Payments processed by PayPal
Canadian Customers
CDN $20


Rest of the World Customers
US $20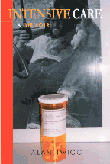 One night in April, after a Sunday soccer game, Alan Twigg couldn't remember the names of his two sons or his wife—and he couldn't hold a pen. An emergency CAT scan revealed a large brain tumour squeezed against his motor cortex. Intensive Care tells the story of why this was a good thing.
Intensive Care isn't a medical survival story; it's a yearlong reflection on how the imminence of death can enhance life. The grass gets greener. Confirmation that one is loved is exhilarating, more powerful than any drug.
On May 26th, The Globe & Mail ran a front page story about a recent medical study that concluded one in five Canadians will have a tumour in their head at some point in their lives. Two days later, Dr. Christopher Honey, a neurosurgeon at Vancouver General Hospital, removed the benign tumour from Alan Twigg's head during a five-hour operation. He started writing again, in the Intensive Care ward, three hours later.
ISBN 1895636477
5 x 8 | 80 pp
14.00 CAN / 10.00 US
Rights available: World
ANVIL PRESS BOOKSTORE
Payments processed by PayPal
Canadian Customers
CDN 14.00


Rest of the World Customers
US 10.00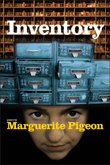 Inventory is a collection of 58 object poems. Taking as a starting point the reciprocal relation between subjects and objects, the book explores the unique way that objects appear in an individual consciousness. Each object in this Inventory exists on its own and also reflects the author's experience, from the mundane stapler and tea bag, to the mysterious, extinct dodo bird, to entities that blur the line between person and thing.
In this way, the collection highlights the often hidden dimensions of the objects we encounter, including their temporal, political, locational and psychic aspects. It offers an opportunity for readers to reconsider their own investments in what, by dictionary definition, should be static categories.
Praise for Inventory:
"Inventory by Marguerite Pigeon examines life's often forgotten elements. From her portrait of "meaning" to her idyllic details of a clothespin, Pigeon is a master of naked realism and organic descriptions of expression. Her first publication, lnventory, was short-listed for the 2010 Gerald Lampert Memorial Award. The book explores the lucid philosophy of simple pleasures – it's a refreshing truth bound in a small package.
lnventory is a front-to-back read that meshes simplicity and intricacy in a witty and intelligent style. Pigeon's work is a gem of purity in a complex world."
—Poetry is Dead
ISBN 1895636973
5 x 7.5 | 80 pp
$15 CAN / $15 US
Rights available: World
ANVIL PRESS BOOKSTORE
Payments processed by PayPal
Canadian Customers
CDN $15


Rest of the World Customers
US $15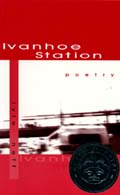 B.C. Book Prize Finalist
Ivanhoe Station is a début collection that rivets with poetic imagery as sharp as movie graphics. These poems address, in turn, social and political questions, while focussing—centrally—on a theme of transcendence.
ISBN 1895636167
5 x 8 | 64 pp
10.95 CAN / 8.95 US
Rights available: World
ANVIL PRESS BOOKSTORE
Payments processed by PayPal
Canadian Customers
CDN 10.95


Rest of the World Customers
US 8.95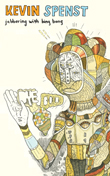 Kevin Spenst's much-anticipated debut collection of poetry opens as a coming-of-age narrative of lower-middle class life in Vancouver's suburb of Surrey, embroidered within a myriad of pop- and "post-Mennonite" culture.
Language is at play with sit-com sonnets, soundscapes of noise, videogame goombas, an Old-Testament God, teenage longing within the power chords of heavy metal, and the complicated loss of a father to schizophrenia. Jabbering with Bing Bong chronicles the heartbreaking and slapstick pursuit of truth in the realms of religion, mental health, and poetic form itself.


Praise for Jabbering with Bing Bong:
"Belief and disbelief rub up against each other in this startling and flawless debut collection. … These important poems do not redeem so much as allow the possibility of redemption."
—Jen Currin, author of The Inquisition Yours


"Fearless, attentively probing, and sonically sharp, he is a rare counter-theosophist rhapsodist. Spenst's Jabbering…is the work of a remarkable shepherd."
—Sandra Ridley, author of The Counting House


"Kevin Spenst provides further proof that the best writing these days is in the practice of poetry. Hang on tight as you are winged deftly through the human strains…curiosity, sexuality, death, religion and striving—it's all here."
—Dennis E. Bolen, author of Black Liquor


"Kevin Spenst's muscular vocabulary, vigorous pace and nimble references to cultural details enliven his exploration of topics ranging from adolescence to God to Fenris wolf."
—Sarah Klassen, author of Journey to Yalta
ISBN 978-1-77214-014-9
5 x 8 | 88 pp
$18 CAN / $18 US
Rights available: World
ANVIL PRESS BOOKSTORE
Payments processed by PayPal
Canadian Customers
CDN $18


Rest of the World Customers
US $18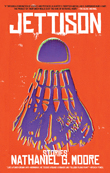 Nathaniel G. Moore follows up his 2014 ReLit Award win for Savage with a diverse collection of short fiction, his first — Jettison, featuring stories which dangle somewhere between horror and romance.
"Jaws" explores a father's desire to over-share the erotic origins of his children's "Aunt" Louise; "Blade Runner" uncovers the darkest and most hilarious aspects of dating by delineating the psych ward politics surrounding a male mental patient with five girlfriends who take apart his bed when they visit; in "A Higher Power" readers are introduced to a brave woman in recovery who shares a story about a time when all she could think about was Prime Minister Paul Martin and would do anything to crash charity dance-a-thons he might be attending; in "Son of Zodiac" Moore captures the ache of a life-spanning meltdown in the painfully polite confessions of a man who believes his father was the Zodiac Killer. Be grateful as you witness a portrait of vulgar torment when a young woman is given an English professor action figure for Christmas in "Professor Buggles."


Each of these stories is an all-inclusive getaway to hilarity and emotional atonement — Jettison is an all-you-can-eat buffet of literary invention: you'll be so glad you got an invite.


And check out Jettison.ca for all things Jettison!


WHAT FOLKS ARE SAYING ABOUT JETTISON:


"Nathaniel G. Moore's first short-story collection is certainly not for everyone's taste, but is a good introduction to the British Columbia-based writer who's been compared to Philip K. Dick and William S. Burroughs … wickedly fun to read."
— Winnipeg Free Press


"Jettison is not a pull-your-hair-out-and-run-out-the-door-screaming-horror-show, but rather an entertaining whirlwind of premise, playing with familiar tropes such as family reunions, romantic fallouts, our role in destroying the world, and our obsession with chaos, conflict and communication."
—Small Press Book Review


"Jettison is nothing if not daring, and the 'Screw you, let's get weird' approach smacks equally of New Narrative writers and high-end sci-fi. When the total flippancy thing is done well, it's actually hilarious."
–The Winnipeg Review


"I read 'The Thorncliffe Strangler' expecting violence. The title, I thought, warned it. Instead, Moore writes about a friendship. The memory of it, its nostalgia. There are funny moments and moments that point to deep wells of sadness, to the parts inside us either lost or absurd. Meanwhile, at the edge, an apocryphal strangler hovers. What he represents to you will, of course, depend on your experience with stranglers."
– Chelsea Rooney, author of Pedal


"Dark humour and wet lust—Moore takes us from the height of human feeling with a flashbulb love story and cold-cocks us with a festering Floridian bug bite and the Ontario cold."
-Evie Christie, author of The Bourgeois Empire


"Seismic shocks of recognition as Nathaniel G. Moore in his 'American Psycho' short story portrays the mug's game as T.S. Eliot liked to describe the sport of poetry writing. Mr. Moore's Big Smoke slugfest takes place over time (extra rounds) with both combatants thoroughly bloodied."
– Philip Quinn, author of The Double
ISBN 978-1-77214-047-7
5.25 x 8.25 | 288 pp
$20 CAN / $20 US
Rights available: World
ANVIL PRESS BOOKSTORE
Payments processed by PayPal
Canadian Customers
CDN $20


Rest of the World Customers
US $20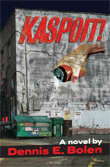 Kaspoit! puts speculative illustration to the most profuse series of crimes ever to take place on Canadian soil. Set in the lower mainland of Vancouver, the time is now—criminals are brazen, cops are cynical—and no one is trying to solve the disappearance of dozens of women.
Throughout, the novel conveys a savage, dystopian depiction of a netherworld teeming with gangland crime, sexual exploitation, betrayal and murder. The language is neologistic—jarring and vulgar—creating an atmosphere dense with bloodchilling dread, hurtling the reader through sinister, malevolent scenes with a velocity rarely seen in contemporary fiction.
———
"… After William Pickton was arrested, media and activist groups had a field day speculating about why women were going missing from the Downtown Eastside for years before the Vancouver Police or
RCMP
appeared to notice. That's the question Bolen tries to answer in
Kaspoit!
It's a novel about perception and agendas, about how what we see, and what we think we know, are determined by what we're looking for. … Bolen's stripped-to-the-frame, dialogue-driven story will be as shocking to CanLit-conditioned sensibilities as a slap in the face with a bag of cold nails."
— John Moore, BC BookWorld
"Kaspoit! is either a sublime literary work of near genius or is one of the most wretched wallows in the dark mire of the soul ever published. … Reader beware, Kaspoit! is not for the easily upset, but, if you can handle it, you'll soon realize you're reading a work of stark brilliance. … The story itself is so compelling that the reader returns to the book, though repelled by it. Finally, the conspiracy it posits is startling compared to the vague news coverage that the infamous pig farm case received."
— Les Wiseman, Victoria Times Colonist
"a tour de force of thug-life horror, the book is a fictionalized account of what might have gone on at a certain Port Coquitlam pig farm where the DNA of 32 women was found during a massive forensic investigation. If you've ever felt that the publication ban on Robert Pickton's speedy trial and conviction smelled strongly of cover-up, this is for you."
— Alex Varty, The Georgia Straight
ISBN 9781897535059
5.75 x 8.75 | 258 pp
$20.00 CAN / $20.00 US
Rights available: World
ANVIL PRESS BOOKSTORE
Payments processed by PayPal
Canadian Customers
CDN $20.00


Rest of the World Customers
US $20.00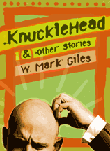 Winner of the W.O. Mitchell/City of Calgary Award

A debut collection, these stories are set in the corporeal world of adult endeavour: the mall, the office, the subdivision. It's these settings that W. Mark Giles exploits—locking his sights on eerily familiar characters, excavating their fears, intimacies, and the dark machinery behind their actions. He taps into our collective longing for moments of clarity and awe, recognizes our thwarted potential for wonder, and sees our secrets played out in cruelty. A strangely unified collection, unsettling and surprising, Knucklehead resides where the lines between real and imagined blur. Giles's penetrating view and unsentimental honesty shape these stories and push the reader's expectations of the "ordinary." These are mature and compelling narratives that encapsulate everything great about short fiction. They freeze a moment, but upon closer examination reveal something more, a message that resonates long after that story has been read.


Praise for Knucklehead & Other Stories

"Elegant riddles dressed in workaday clothes, puzzles of image and event whose solutions cut to the heart of being human in a world of perils …. There's not a word or image that fails to contribute to Giles' purpose."
– The Globe & Mail

"Giles' style is polished and assured throughout …. Knucklehead is a solid debut."
—Quill & Quire
ISBN 1895636507
5.5 x 7.5 | 238 pp
18.00 CAN / 13.00 US
Rights available: World
ANVIL PRESS BOOKSTORE
Payments processed by PayPal
Canadian Customers
CDN 18.00


Rest of the World Customers
US 13.00

Next
Previous