Books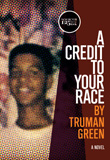 Set in Surrey, BC circa 1960, A Credit to Your Race is a story about innocent love awakening between a fifteen-year-old black porter's son and the white girl next door. The novel is a disturbing and convincing portrayal of how the full weight of racism and bigotry came to bear on a youthful, interracial couple.
A Credit to Your Race was published in 1973 in a press run of only a few hundred copies. We are pleased to be making this "lost" BC novel available to a new audience of readers as part of the City of Vancouver's Legacy Book Project.
"If isolation is a key theme of black B.C. writing, Green's protagonist Billy Robinson is the most fully-drawn expression."
– author and social historian Wayde Compton
ISBN 978-1-897535-86-8
5.5 x 8 | 160 pp
$18 CAN / $18 US
Rights available: World.
ANVIL PRESS BOOKSTORE
Payments processed by PayPal
Canadian Customers
CDN $18


Rest of the World Customers
US $18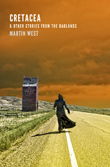 The stories in Cretacea and Other Stories from the Badlands mostly take place in hot weather, where dust and sweat envelop everyone and everything. A teenage boy spends a summer with his hard-livin', hard-drinkin', messed up uncle and has to fight for a position in his new, temporary "family." A recent widower gets swept up in the world of the local swingers' scene. A band of misfits struggles to survive at a makeshift commune. An eccentric woman with OCD has a strange fetish that involves the prescription delivery boy. For no particular reason, a fossil-collecting, poetry-reading loner decides to turn sniper and shoot up the town – selecting only non-human targets. Asphyxia games with a sexy transvestite go seriously awry. A distraught man enlists his friendly neighbour in a nighttime river search for his lost daughter. Bored and desperate couples in a trailer park find unique ways to work out their kinks. The plans of a primed-for-action threesome are suddenly derailed when a badly beaten dog is spotted tied up to a parking meter. Fossils and prehistoric sleeping creatures, cattle, rivers, dusty highway gas stations, truck stop diners, guys in small towns with dead-end jobs and unfulfilled dreams, the smell of sage and the sound of cicadas in the air, and redemption is nowhere to be found …


This is not the Alberta world of oil and hockey and wheat, but of people at night, living alternate lives, wearing clothes that usually remain hidden in the depths of closets. When they emerge from these closets wearing these clothes, these shopkeepers, lawyers, and students do things to themselves and each other that it would take Freud to explicate. Everywhere in the valley lies the fear of loneliness, the obsession with desire, and the human fixation with the unknown.


Praise for Cretacea & Other Stories from the Badlands:


"[I]n Martin West's impressive debut short story collection … readers will encounter echoes of Flannery O'Connor and Barry Hannah."
— Foreword Magazine


"the 11 tales in Martin West's debut collection … often surprise with strange, startling images."
— Alberta Views
ISBN 978-1-77214-049-1
5.5 x 8.5 | 174 pp
$20 CAN / $20 US
Rights available: World
ANVIL PRESS BOOKSTORE
Payments processed by PayPal
Canadian Customers
CDN $20


Rest of the World Customers
US $20


Rooted in the back alleys, squats and psychiatric wards of contemporary Vancouver and Montreal, these unyielding poems enter the intersecting tensions and intensities in characters such as Mike, a panhandler on Vancouver's Commercial Drive, Matthew, a runaway punk, and Dara, a single mother. Cusp's central sequence, however, concerns the tragic life and death of Frank Bonneville, a schizophrenic and drug-addicted artist who became Ms. Owen's muse between their 2001 meeting and his 2003 suicide. Complemented by Karen Moe's haunting photographs of Vancouver's neglected spaces and rejected objects, Cusp/detritus is a testimony to an obsession with the lost.
ISBN 1895636744
7 x 7 | 128 pp
16.00 CAN / 14.00 US
Rights available: World
ANVIL PRESS BOOKSTORE
Payments processed by PayPal
Canadian Customers
CDN 16.00


Rest of the World Customers
US 14.00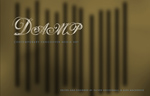 By Oliver Hockenhull and Alex Mackenzie
DAMP: Contemporary Vancouver Media Arts, is a singular effort, a visually exuberant work that is also on the vanguard of theoretical engagement, a symbiosis of form and content, in full-colour throughout, inclusive of extensive imagery, graphic intrigues and typographical accent—a rare and desirable art-infused statement of the city's media art scene—now.
DAMP is a long overdue critical engagement regarding the specificities of contemporary Vancouver media arts. The editors' effort is not so much to look to the past, nor to confine themselves within the borders of a collective of one sort or another. Their intent is to examine and speak to the now and the future of practice in Vancouver, its relationship to world art-media, and to the strategies of artists in this particular region. Origins of thought—from First Nations source code onwards—create a framework and starting point from which to study this mediacity. By re-focussing on the relative unknowns of this scene—the hidden and supressed histories, the city's internal and external mythologies and imaginary futures—they are revealing a plainly visible but unacknowledged praxis. DAMP will act as a catalyst for discussion that stretches well beyond this locale, as it creates response and reaction from points east, internal, and beyond nation borders.
DAMP includes over 25 contributions from such artists as Laiwan, Fiona Bowie, Ann Marie Fleming, David Rimmer, Warren Arcan, and Yum Lam Li, and critical essays by such well respected Vancouver theorists as Clint Burnham, Jayce Salloum, and Randy Lee Cutler.
ISBN 1895636892
11 x 7.5 | 144
40.00 CAN / 40.00 US
Rights available: World
ANVIL PRESS BOOKSTORE
Payments processed by PayPal
Canadian Customers
CDN 40.00


Rest of the World Customers
US 40.00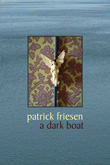 The poems in A Dark Boat shake hands with darkness; the kind of darkness that is rich and necessary for a full human life, the darkness of soil into which seeds drop and grow, the darkness of the grave into which the body is lowered.
Heavily inspired by cante jondo (Spanish "deep song") and Portuguese fado, these poems explore the kind of yearning that is contained in the Portuguese word saudad: a longing for something in the past that can never be found because time has shifted everything away from what it was.
PRAISE FOR A DARK BOAT
"… If you've never heard fado music, you should. It is an intense, raw, emotional music … Or you could just read this book, which is imbued with his reminiscences of his trip and the music of fado. … lines that punch you in the gut, leaving you breathless. …"
— Prairie Fire
"I've been loving this little book of poems by Patrick Friesen, called A Dark Boat. Full of striking imagery and haunting lyricism, the book explores common everyday themes (travel, working, nature) but with a dark twinge to them. … I really love this book."
— Azure Scratchings (blog), Blue Metropolis Lit Festival & Foundation
"I don't know how Patrick Friesen has found his way into these poems: they seem to spring from the beginning of time. Nothing is held back. The poems – beautiful to read – are as devastatingly real in their drama on an immense stage of sun and shadow, as living bone. The literary haunting is Lorca and the memories are of the stranger, the stray dog, the witness to the wedding on the banks of the river of death. I read these poems with the utter conviction that Friesen had crossed barriers of time, place, and culture to draw forth poems out of the heart of mystery."
— Marilyn Bowering
"Friesen writes about a world that is "quiet" but teeming with emotion; this world is alive and "writhing" with lust, obsession, inspiration, suffering, and yearning. … There is a musicality to Friesen's writing, a lyricism indicative of what the Spanish term "Deep Song", a more somber stream of flamenco music. There are constant references to fado music, pianos, horns and Tom Waits, as Friesen probes the universality of music. … The poems are not frivolous but neither are they suppressive or overwrought by the darkness. Instead, the themes are the undiluted musings of an adult, contemplative, full of yearning and with an awareness of death. Friesen is preoccupied with dancing, the motion of feet and legs. In his poems everything from walking and drunken stumbles, as well as the movement of dance, is associated with lust, struggle and resistance. This becomes the perfect backdrop for historically rich poems about Lorca."
— Vancouver Weekly (online)
"When I enter Friesen's poems I am sent to my deepest roots of Sephardic, Arab, and Celtic blood. I 'hear the heat somewhere over the wall' and wonder, as he does, 'what is behind her/ in the dark room/ what she will enter when she turns/ for a moment.' It's a window I may have seen in Lisbon. When Friesen mentions death in this book, it is the same death of my culture, so much intermingled with life that you cannot separate them from each other. 'Earth's cornada' wounds me in this exile where I live 'made of rivers of thirst and birth.' Friesen knows well what there is behind silence."
— Lala Isla
ISBN 978-1-897535-91-2
5 x 7.5 | 120 pp
$16 CAN / $16 US
Rights available: World
ANVIL PRESS BOOKSTORE
Payments processed by PayPal
Canadian Customers
CDN $16


Rest of the World Customers
US $16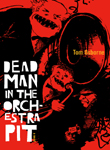 Dead Man in the Orchestra Pit is a singularly Canadian novel featuring crime, culture, and sports. Written in the vein of John Kennedy Toole (Confederacy of Dunces) and JP Donleavy, Dead Man in the Orchestra Pit is set in Vancouver during an early 80s Grey Cup weekend. Tourists and sports aficionados have descended on the city in record droves. There are, however, a few folks who have other interests and plans. Three small-time career crooks are planning a heist on one of the city's exclusive hotels. Enter Harry Pazik Jr., a good ole boy from Calgary, who is inadvertently swept up in the mayhem of the crooks' boondoggle. Meanwhile, across town at the Queen Elizabeth Theatre, rehearsals of La Traviata are in full swing. The 300-pound stage manager has toppled to the orchestra pit, crushing the tuba player, while Jorgen Thrapp, assistant to the Lighting Director, is busy behind the scenes with his dealings in drugs and numbers running for a crooked printer intent on making a killing on the big game. Everyone gets more than they bargained for in this slapstick Grey Cup-meets-Goodfellas romp.
Praise for Dead Man in the Orchestra Pit
"'Only connect' was E.M. Forster's advice to writers, and Osborne connects like a mad electrician in a power plant."
—The Vancouver Sun
"Smart dialogue, fast action, and a mix of liquor and drugs fuel this clever tale."
—North Shore News
ISBN 1895636728
5.5 x 8 | 160 pp
18.00 CAN / 13.00 US
Rights available: World
ANVIL PRESS BOOKSTORE
Payments processed by PayPal
Canadian Customers
CDN 18.00


Rest of the World Customers
US 13.00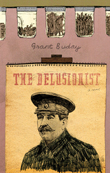 Kobzar Literary Award, Finalist
Eric Hoffer Award, Shortlist
City of Victoria Book Prize, Finalist

Vancouver, summer 1962. Cyril Andrachuk and Connie Chow are seventeen and in love.


Cyril is the only Canadian-born member of the Andrachuk family, his parents and older brother having survived Stalin's systematic starving of the Ukraine. His brother's brittle bones are not the only legacy of Stalin. Cyril's famine-free childhood has built up a distance between him and the rest of the household.


His family's past charges Cyril's present with bitter overtones he barely understands and Cyril's love of art is beyond his family's comprehension; Cyril is destined to be a working man, not a working artist.


In this house built on the edge of a cemetery, where his mother reviews the burials over her morning tea, creativity and joy are suspect. Mourning the early death of his father, Cyril finds solace in lovingly drawing his father's metal-working tools and in his happiness with Connie. But his family's resentment sows the seeds of betrayal, and Cyril must find a way to live with his family's past in order to find his future.


Art, love, and history furnish the setting in this tale. The Delusionist is a novel of longing, loss and rediscovered joy.


REVIEWERS ON THE DELUSIONIST:
"Subtle and elegant, his account of one's man's stumble-filled movement toward his fate commands attention and gives readers new ways to comprehend the process of maturation."
— THE VANCOUVER SUN


"Writers like Grant Buday remind us that a million deaths is not merely a number; it's a million individual tragedies."
— John Moore, BC BOOKWORLD


Reviewers on Grant Buday's writing:
"Buday's writing is lean, crisp, thoroughly engaging, and incisive . . . an exceptional talent."
—Quill & Quire


"a great storyteller" — Danforth Review


Dragonflies is "deeply imagined and exquisitely written."
—Goodreads
ISBN 978-1-927380-93-2
5.25 x 8.25 | 256 pp
$20 CAN / $20 US
Rights available: World
ANVIL PRESS BOOKSTORE
Payments processed by PayPal
Canadian Customers
CDN $20


Rest of the World Customers
US $20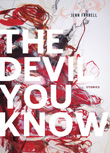 The Devil You Know is the follow-up volume to Farrell's critically acclaimed debut collection, Sugar Bush & Other Stories.
These stories deal with sex, love, work, birth, and death in alternately moving, shocking, funny, and at times devastating ways. Whether these characters are facing the death of a parent, bad love choices, the possibility of unwanted pregnancy, the rupture of friendships, teen violence, or the exploration of sado-masochistic sex, Farrell exposes their ticking cores and pulls the reader along every step of the way.
"Farrell effectively forges her image as a bad-ass version of Alice Munro. Like Munro, she's a short story writer who focuses on the lives of girls and women in small-town Canada, but Farrell's characters get high on mushrooms and dabble in BDSM."
— The Georgia Straight
Jenn Farrell's smart, observant stories about desire and escape take us to the places we're all afraid to admit we've been. Read The Devil You Know with greed and a hot, pleasurable hint of guilt.
— Sally Cooper
author of Love Object and Tell Everything
There are points in Jenn Farrell's amazing collection that I felt like I was listening in on the most intimate conversations of strangers—I was rapt with attention, but almost guilty for being privy to such intimacy. The Devil You Know treads familiar territory—small town ennui, adolescent love, grief and self-destruction—but does it with such emotional acuity that it doesn't feel familiar at all, it feels extraordinary.
— Catherine Hanrahan
author of Lost Girls and Love Hotels
Make no mistake; The Devil You Know belongs on the shelf alongside Nights Below Station Street. In this confident, insightful, often horrifyingly funny collection, Jenn Farrell distinguishes herself as one of Canada's finest contemporary writers of short fiction. Here are working class family dramas boiled down to the bone. Quick and mean as a Virginia Slim and bright and harsh as a Rexall at midnight, Farrell never fails to bring us down to earth to meet those beautiful, flawed, undeniably human devils we know so well. Refreshingly honest, impeccably written. A very, very good book.
— Elizabeth Bachinsky
author of Home of Sudden Service
"The Devil You Know has a distinctly urban thrust, with many of the stories taking a voyeuristic view of small-town girls trying to make their way in big cities. The reader watches them discover that it's the same shit, different town. … Complex, multi-layered sentences and language achieve a 'simple' colloquial voice that is not simple to achieve. …"
— The Malahat Review
"Farrell excels at very short, sharply realized tales that display a startling repertoire of styles and structural innovations."
— Vancouver Review
"The Devil You Know is a powerful, revealing read from an uncompromising writer. The women in these stories are real, three-dimensional, alive, and thinking. Smart and sexy."
— The Rover
"… [Farrell] works her characters expertly through each story, holding the reader in her hand and showing readers something fresh, provocative, sombre, sad and — above all — real about human behaviour via her voyeuristic fiction. Excellent stuff."
— Front&Centre
ISBN 9781897535066
5.75 x 8 | 128 pp
$16 CAN / $16 US
Rights available: World
ANVIL PRESS BOOKSTORE
Payments processed by PayPal
Canadian Customers
CDN $16


Rest of the World Customers
US $16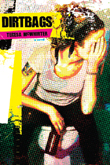 Dirtbags is a novel about reckoning—with one's past, one's choices, and one's expectations for the future. Spider is a scrappy kid growing up in rural B.C., and when a tragic event causes her world to implode she heads to Vancouver for solace, distraction, and experience.
We witness a shifting morality as Spider moves through chaos and anarchy, often of her own choosing, with no certainty of truth besides what is found in brief encounters. She soaks up the world around her, getting swept up in an accelerated scene of punk music, partying, booze and drugs, but she is forever dogged by a nagging question from her past: "When everything in your life is fleeting, what do you hold onto?"
Dirtbags deals with the bonds between women, the cycle of poverty, self-destruction, loss of family, the outlaw code, and the fragile beauty of the human condition.
This is Teresa McWhirter's follow-up novel to Some Girls Do.
Praise for Some Girls Do:
"Some Girls Do reads like candy, but offers philosophical tidbits and personal revelations. …" —BC BookWorld
"… a sharp poetic glimpse into the yearning but hopelessly unfocused lives of a group of marginal urbanites in a small West Coast city …" —Elle Canada
ISBN 1895636884
5 x 7.5 | 224 pp
20.00 CAN / 18.00 US
Rights available: World
ANVIL PRESS BOOKSTORE
Payments processed by PayPal
Canadian Customers
CDN 20.00


Rest of the World Customers
US 18.00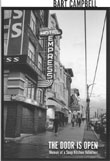 Finalist BC Book Prize (Hubert Evans Non-Fiction Prize)
Finalist City of Vancouver Book Prize
The Door Is Open is a compassionate, reflective, and informative memoir about three-and-a-half years spent volunteering at a skid row drop-in centre in Vancouver's downtown eastside. In an area most renowned for its shocking social ills, and the notorious distinction of holding the country's "very poorest forward sortation area of all 7,000 postal prefixes," Bart Campbell dismantles our hard-held notions about poverty, the disenfranchised, substance abuse, and the nature of charity.
The Door Is Open is one man's story of a transformative journey into the complicated and complex world of poverty.
ISBN 1895636361
5.5 x 8.5 | 144 pp
16.00 CAN / 10.95 US
Rights available: World
ANVIL PRESS BOOKSTORE
Payments processed by PayPal
Canadian Customers
CDN 16.00


Rest of the World Customers
US 10.95

Next
Previous