Authors
Oliver Hockenhull has had critical essays published in many art magazines in Canada – such as C, POV, and Fuse. He is also a noted filmmaker and media artist whose works screen around the globe—from numerous Vancouver International Film Festival screenings to screenings at MOMA, Melbourne, Kerala, Rotterdam, Chicago, Amsterdam, Paris, etc.
Alex Mackenzie was founder and curator of both the Blinding Light Cinema and the Vancouver Underground Film Festival. He is past editor of Workprint, 250W and contributed to a variety of publications including Take One Magazine and various gallery and festival catalogues and imprints. His media work has screened throughout Europe and North America. He is also an accomplished graphic designer, having worked with, among others, Infinity Features, the National Film Board of Canada, Tabata Productions, Omni Film, and a broad range of film publicity and music CD packaging concerns.

Barbara Hodgson is a book designer and author. Her non-fiction works include: In the Arms of Morpheus: The Tragic History of Luadanum, Morphine and Patent Medicines—a fascinating yet unsettling account of medical opium in the nineteenth and early twentieth centuries—and Opium: A Portrait of the Heavenly Demon, an exquisitely designed book that perfectly evokes the insidious allure and devastating dangers of opium smoking.

Clint Hutzulak lives and works in Victoria, BC. He has a BA Honours in English and Creative Writing from the University of Victoria. Several of his short plays have been staged in Victoria. Selections from The Beautiful Dead End appeared in the anthologies Red Stains and Dust, from Creation Books of England. A soundtrack album to accompany the novel is available. The instrumental music features dobro, pedal steel, accordion and electronics, in solo and ensemble performances, commissioned from 20 musicians living in BC, Quebec, and Italy. For music samples and more information, visit www.ClintHutzulak.com.



Jamie Reid was born in Timmins, Ontario in 1941. A writer, activist, and arts organizer, Reid was a member of the original five-member editorial board of TISH, the Vancouver poetry newsletter at UBC, in 1961. His first collection of poems, The Man Whose Path Was on Fire, was published by Talonbooks in 1969. A short time later he joined the Communist Party of Canada (Marxist-Leninist) and stopped writing for twenty-five years in favour of political activism. Reid returned to poetry and cultural criticism in the late 1980s, with a special interest in jazz expressed in many of his works. In 1994 he published Prez: A Homage to Lester Young, and in 1997 a new collection of poetry, Mad Boys. In 2002 he released Diana Krall: The Language of Love, a biography of jazz musician Diana Krall and in 2004 Talonbooks published I. Another. The Space Between: Selected Poems. In 2009 he published the chapbook, Homages (Pooka Press), which is included here as one section of A Temporary Stranger.


[Author photo by Brian Nation]

A graduate of the Iowa Writers' Workshop and a Fellow at Yaddo artists' colony in New York, Mark Jarman's work has appeared in virtually every Canadian literary journal out there. Publication credits include Queen's Quarterly, Prism International, subTerrain, Hawaii Review, Prairie Fire, and Quarterly West (Univ. of Utah). Other books include the memoir Ireland's Eye, the short story collections Dancing Nightly In the Tavern (Alberta Writers' Guild Award for Best Fiction), New Orleans is Sinking, and 19 Knives, and a collection of poetry, Killing The Swan. Mr. Jarman also edited a book of alcohol related stories, An Ounce Of Cure.


Jennica Harper's previous books of poetry are What It Feels Like for a Girl and The Octopus and Other Poems. In 2012, What It Feels Like for a Girl was published as an e-book for Kindle and Kobo, and was adapted into one-third of the critically acclaimed theatrical experience Initiation Trilogy at the Vancouver International Writers Festival (Marita Dachsel/Electric Company). Her poems have been awarded a Silver National Magazine Award, and have been twice selected for the Poetry in Transit project. Jennica lives in Vancouver, where she also writes for film and television.

The inaugural winner of subTerrain 's creative non-fiction award, Jim Oaten has had previous work published in Vancouver Magazine, Vancouver Review, the Vancouver Sun, Pacific Rim and Where. He has also won a National Magazine Award (Honourable Mention) and has been a Western Magazine Award finalist.
Currently a denizen of East Vancouver, he lives in fear of real estate prices.
Accelerated Paces is Jim Oaten's first book.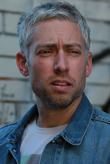 John Creary has had his poetry widely published in Canadian literary journals including The Best Canadian Poetry in English 2011, Arc, Event, Grain, CV2, Fiddlehead, Vallum, subTerrain, and The Antigonish Review. He was awarded the Calgary Literary Kaleidoscope Undergraduate Award for Creative Writing in November 2008. Escape from Wreck City is his first book. He currently lives in Calgary.


Jon Paul Fiorentino is the author ten books including I'm Not Scared of You or Anything, which was shortlisted for the ReLit Award for Short Fiction and Hugh MacLennan Prize for Fiction, Needs Improvement, which was shortlisted for the A.M. Klein Prize for Poetry, and Indexical Elegies, which won the CBC Books "Bookie" Award for Best Book of Poetry. He lives in Montreal where he teaches Creative Writing at Concordia University, is the editor-in-chief of Matrix magazine, and the editor for the Serotonin/Wayside Imprint of Insomniac Press.


Maryanna Hardy (Illustrator for I'm Not Scared of You or Anything)


Maryanna Hardy has worked as an artist, illustrator and screen printer and has published her work in publications nationally and internationally. She has designed countless gig posters and chapbooks of her drawings, built and ran a screen–printing shop in Montreal, and has painted public murals in Montreal and Toronto. She has most recently exhibited her work through Gallery Pangee and Gallery Youn in Montreal. In 2009 and 2010 she collaborated with the YPF Collective on their large-scale installation at the Osheaga International Music Festival in Montreal. In November 2010, she published a book of her drawings with Conundrum Press called So I've Been Told. The book was short-listed for Montreal Expozine's 2010 Best Canadian Book and was also short-listed for a Doug Wright award for Best Avant-Garde Comic Book. She lives in Montreal.


Writer and interdisciplinary artist, Karoline Georges explores the processes of sublimation. She is interested in virtual events, possible fates, the utilization of consciousness through the technological maze and the accumulation of knowledge. Her latest novel, Variations endogènes, was published in 2014 by Editions Alto.